UPDATE: As noted in the comments and in this post, Uriminzokkiri is run by the North Koreans, not the Chongryun.
ORIGINAL POST: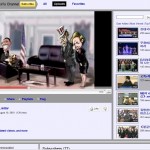 The pro-Pyongyang ethnic Korean community in Japan (Chongryun, Chosen Soren) has apparently opend a YouTube channel named "uriminzokkiri" ("On our own as a nation") where they are uploading pro-DPRK and DPRK-made videos.
The Chongryun operate a number of web pages on behalf of themselves and the North Korean government (Chongryon.com, Naenara, elufa.net, uriminzokkiri.com, and more) all of which host video content.  So why open a YouTube account?  All these web pages are blocked in South Korea—so I am wondering if South Korean readers see these YouTube videos? 
UPDATE: Gag notes the following in the comments: "The 'uriminzokkiri' account is presumably run by the website of the same name, which links to it. The uriminzokkiri.com homepage lists two email addresses on silibank.com, so I doubt that it's run by the Chongryon either. (elufa.net, which is in Japanese, has an email address on its own domain.)
I wonder also whether it is just a matter of time before the US Justice Department/Treasury Department goes knocking on YouTube's door.  If this account is sponsored by the official Chonryon organization, the US government might have a problem with that.  I suspect, however, that the account is "maintained" by a "private" individual so that it cannot be construed as engagement in a business trade with the DPRK.  In the past, on line chat services owned by Yahoo and Linkedin have been asked to close accounts of individuals in sanctioned countries like the DPRK.  
As of now, the account hosts nearly 40 videos.  Unfortunatley not a single one is of the North Korean evening news.  The North Korean news is usually posted on Elufa.net, but has not been updated since July 26. Rather than running 10 pages poorly, they might consider consolidating and running 2 pages well!
According to Yonhap:
North Korea has apparently registered an account with the iconic U.S. video-sharing site YouTube, uploading clips that praise the isolated regime and defend itself against accusations that it attacked a South Korean warship.

…

The name in Korean means "on our own as a nation" and was registered July 14.

The uploaded footage contain regurgitations of official cant that honor the North's leader, Kim Jong-il, and the usual South Korea bashing. The Aug. 2 upload contained an elaborately produced three-minute clip lashing out at South Korea's foreign minister.

Another clip, uploaded the same day and also produced in Korean, ridicules Seoul for its failure to stop the U.N. Security Council from placing Pyongyang's denial in its statement deploring the deadly March sinking of the Cheonan warship.