According to the Choson Ilbo: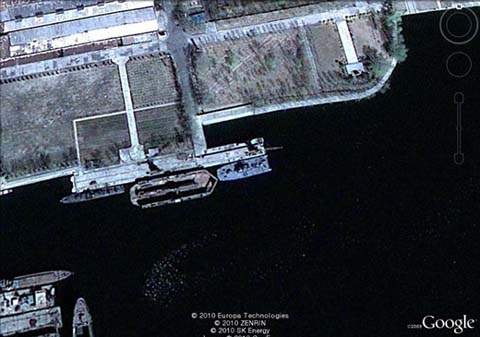 Seoul-based news channel YTN reported on Wednesday that a 34 m-long vessel equipped with 30- and 57-mm cannons was caught in a satellite photograph off the North's Daedong River, near Nampo in South Pyongan Province.

An improved version of a hovercraft built to assist Pyongyang's special forces in carrying out a possible invasion of South Korea, the ship is twice the length of the North's earlier military hovercrafts.

In addition to some 130 wartime hovercrafts of about 17 to 20 m in length which the North Korean military has anchored off both the east and west coasts, a whopping 37 m-long air-cushion vehicle was also seen docked at Wonsan port in the East Sea.

Supported by a cushion of air, hovercrafts can move over land, ice and water, as well as mudflats and swamps.
Read the full story here:
N.Korea's New Hovercraft Battleship Seen for First Time
Choson Ilbo
8/5/2010