UPDATE (2011-5-31): New Google Earth imagery, dated 2009-5-27, reveals the Sunchon Vinalon Complex area continues to shrink:
Here is an overview of the facilities in question.  Note the two yellow boxes: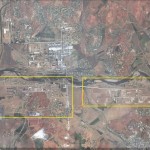 Below are images from the complex in the yellow box on the left (March 2004 – May 2009):
Below are images from the complex in the yellow box on the right (March 2004 – May 2009):
ORIGINAL POST (2010-5-25): The Sunchon Vinalon Complex was launched in 1985.  It was intended to produce 100,000 tons of Vinalon as well as methanol, vinyl chloride, sodim carbonate, caustic soda, nitrogenous fertilizers, albuminous feed.  In October 1989 the government announced that the first-stage had gone into production (50,000 tons of vinalon).
Using Google Earth imagery and clandestine video footage we can see, however, that much of the Sunchon Vinalon Complex, what I believe is that largest industrial complex in the DPRK (in terms of geographic size), is now a shrinking pile of scrap materials.
Below is an overview of the Sunchon industrial area.  It is composed not only of the Sunchon Vinalon Complex, but also the Sunchon Thermal Power Plant and Sunchon Cement Complex.  I believe the Sunchon Vinalon Complex is actually composed of three distinct hubs. The two I will be looking at are highlighted in red in the below satellite overview image:

The  red box on the right has seen the most changes.  Between 2004 and 2006 it was nearly entirely stripped:
The red box on the left has been stripped as well–though not nearly to the same extent:
Recently KBS broadcast clandestine video shot at the Sunchon complex and someone posted a short clip on the web.  You can watch it here.  Below I have matched the clandestine video segments with the satellite imagery which shows just how derelict the facility has become. Satellite image dates are in the upper right hand corner.
The third zone of the complex seems unaffected over the years.  You can see it here.  I suspect this is the successfully launched "first stage".
Additional Information:
1. Google Books has a blurb about the complex from North Korea: A Strange Socialist Fortress.  See the blurb here. I own this book and recommend it.
2.  Global Security asserts that the facility produces chemical weapons.
3. Here are all of the KCNA stories that mention the Sunchon Vinalon Complex (Courtesy of the invaluable STALIN Search Engine)
4. The Sunchon Vinalon Complex is the second vinalon facility to be constructed in the DPRK.  The first is the 2.8 Vinalon Complex in Hamhung.  This facility was recently reconstructed and opened after falling into disrepair during the Arduous March.