UPDATE 9/16/2009: Despite the downward trajectory that business in the Kaesong Zone seemed to be taking this year, things appear to have bottomed out.  According to Yonhap, the Koreas have signed a Kaesong wage increase.  According to the article:
South and North Korea agreed to a 5 percent wage hike at a joint industrial park on Wednesday, the Unification Ministry here said, in the latest sign of inter-Korean projects returning to normal.

North Korea earlier demanded a 400 percent raise in monthly wages for its workers at the South Korean-run park in Kaesong, just north of the border.

South Korea's management office in Kaesong "signed an agreement on a 5 percent wage increase" with its North Korean counterpart, ministry spokesman Chun Hae-sung said in a brief statement.

The North voluntarily withdrew its earlier demand last week in a striking shift from its unyielding attitude in four rounds of negotiations from April to July. The demand called for monthly wages be raised to US$300 from the average $70-80, apparently in retaliation against Seoul's hard-line policy toward Pyongyang.

The Kaesong park opened in late 2004 as an outcome of the first inter-Korean summit four years earlier. It houses 114 mostly small-sized South Korean firms producing clothing, electronic equipment, kitchenware and other labor-intensive goods with about 40,000 North Korean workers.

The venture is seen as a much-needed source of dollar income for the North, which is currently under U.N. sanctions for its May nuclear test that bans cash flows to the country.

The 5 percent rate hike will increase the minimum wage to about $58 from the current $55.

Separately, North Korea was conducting a door-to-door survey on South Korean businesses at the joint park, said ministry spokeswoman Lee Jong-joo.

North Korea asserted that the two-day survey that continues until Thursday was to examine the firms' output and "listen to their complaints and difficulties regarding tax and accounting," Lee said. Such on-site surveys have been done sporadically, she added.
Although tensions might have eased, it remains to be seen whether the business community can be coaxed into making serious capital investments in the DPRK.
Read previous Kaesong Industrial Zone news below:
UPDATE 9/11/2009: North Korea is now withdrawing its demand for immediate and drastically higher "wages" for North Korean workers in the Kaesong Zone and has instead proposed that wages increase by a maximum of 5% per year, which was the original practice. According to Yonhap:
North Korea withdrew its demand for a hefty wage increase for its workers at a joint industrial park and instead proposed a pay raise cap, officials in Seoul said Friday, as anger grew in the South over a deadly flash flood caused when the North opened a dam.

North Korea had earlier demanded a four-fold wage increase and a steep hike in land fees at the South Korean-run park, which sits on the northern side of the border. That would have been an increase in monthly wage for each North Korean worker from US$70-80 to about $300.

North Korea's management office at the Kaesong park "proposed a draft agreement to our management office on Thursday to keep the maximum rate of wage increase to 5 percent the same as before," South Korean Unification Ministry spokeswoman Lee Jong-joo said.

The compromise came as criticism of North Korea surged in South Korea after an abrupt discharge of dam water caused a flash flood along the banks of the Imjin River near the border and killed six people who were camping or fishing there.
Update 8/24/2009: Kim Jong il meets with Hyundai chief
Institute for Far Eastern Studies (IFES)
NK Brief No. 09-8-24-1
8/24/2009
Hyundai Group chairwoman Hyun Jung-eun has returned from her trip to North Korea and subsequent audience with North Korean leader Kim Jong Il with a series of agreements that could have the potential to restart inter-Korean cooperation. According to an agreement reached by Hyun and Kim, North Korea is prepared to restart Mount Keumgang tourism, restore overland passage and sojourn regulations to their former status, begin tours to Mount Baekdu, and hold separated-family reunions at Mount Keumgang this upcoming Chuseok holiday.
Following the meeting between Kim and Hyun, Hyundai and the North Korean organization in charge of inter-Korean economic cooperation, Korea Asia-Pacific Peace Committee (Chaired by Kim Yang-Keon) announced in a joint statement released on August 17 that the two would push forward with the five projects.
Regarding the restart of sightseeing trips to Mount Keumgang, the joint statement emphasized that, Kim Jong Il himself had ordered that every convenience and safety measure necessary for tourism would be completely guaranteed, and that tours would be expanded to include sightseeing trips to Biro Peak, the highest peak on Mount Keumgang.
It was also agreed the Gyeongui and Donghae passages across the DMZ and sojourns in the North, which were restricted by last year's December 1 Measure, would be fully restored to their original state in accordance with the October 4 Declaration, and bottlenecks in and out of the Kaesong Industrial Complex caused by travel restrictions would be eased. As the agreement called for actively moving forward with growth of the KIC, it appears highly likely that there will be a resolution to North Korea's new demands for increases in land rent and DPRK workers' wages, currently being negotiated by North and South Korean officials through working-level talks.
The joint statement also revealed that Hyundai will begin tourism to Mount Baekdu as soon as preliminary preparations can be completed, and that the North will hold a reunion for the North and South's scattered families and relatives. Whether the South Korean government will agree to such a meeting has yet to be seen. Finally, the joint statement closed with both parties acknowledging the importance of the June 15 Joint Declaration and the October 4 Declaration, and expressing the will to pursue cooperative economic projects and restore inter-Korean relations.
On August 17, (North) Korean Central Broadcasting reported the contents of the joint statement as follows:
Kim Jong Il, chairman of the DPRK National Defense Commission, on August 16 granted a long audience to and had a cordial talk with [Hyun Jung-eun], chairperson of the Hyundai Group, and her party on a visit to Pyongyang, and complied with all her requests.
Accordingly, the Korea Asia-Pacific Peace Committee and the Hyundai Group will execute as follows:
1. It was decided to resume the suspended tourism of Mt. Kumgang as soon as possible and launch the tour of Pirobong, the highest peak in the mountain.
All necessary facilities and security for tourism will be reliably provided according to the special measure taken by Kim Jong Il, chairman of the National Defence Commission.
2. It was decided to restore land passage of the south side"s personnel through the Military Demarcation Line and their stay in the north side"s area as they were according to the spirit of the historic October 4 declaration.
3. It was decided to resume the tourism of Kaesong soon and energize the operation of the Kaesong Industrial Zone as the land passage through MDL is put on a normal basis.
4. The Hyundai Group decided to begin tourism of Mt. Paektu in accordance with the progress of its preparations.
5. It was decided to provide reunion of separated families and relatives from the north and the south in Mt. Kumgang on the day of Chusok (harvest moon day), a folk holiday of the Korean nation, this year.
Both sides expressed will to improve the north-south relations and further develop the cooperation for the common prosperity of the nation under the historic June 15 joint declaration and the October 4 declaration.
UPDATE 8/24/2009: (H/T to The Marmot) The Donga Ilbo reports that the North Koreans charged Hyundai Asan $15,747 for room and board for their recently released employee who was arrested and held in North Korea for 137 days for speaking about the Kim family with North Korean workers at the Kaesong Zone (see below for more information on the employee).  Thanks to the Marmot's helpful translation, we know that the North Koreans calculated US$114.9 a day for Yoo Seong-jin to stay at the Janamsan Hotel (located here in Kaesong).  
UPDATE 8/16/2009: It looks like business will be picking up in Kaesong! After securing the release of a detained South Korean citizen in the DPRK (bottom), Hyundai Chairwoman Hyun Jeong Eun prolonged her visit to Pyongyang to meet with Kim Jong il. What were the results?
According to Reuters:
North Korea said on Monday it had agreed to reopen the border to South Korea its neighbor and allow tourism and family reunions to start again.

Under the latest agreement, land passage across their heavily armed border which was all but blocked late last year will be resumed, allowing the normal traffic to the Kaesong factory park.

It will also allow the restart of tourism to the scenic Mt Kumgang resort, halted a year ago after a North Korean soldier shot dead a tourist from the South who had wandered into a military area.

And Hyundai will launch long-planned tours to the Mt Paektu, a sacred mountain in Korea and, according to official North Korean history, where Kim Jong-il was born. He is widely thought to have in fact been born in the Soviet Union where his father was being trained during World War Two.

North Korea will also allow the resumption in October of the emotionally charged reunion of families separated by the 1950-53 Korean War.

There was no word on whether Hyundai, as part of the latest deal, had buckled to recent demands by North Korea for hefty increases in payments for operating the Kaesong industrial park which offers cheap labor to South Korean companies.

The agreement will reopen crucial sources of income for the North as it grapples with the impact of U.N. sanctions, aimed at cutting off its weapons trade that has long been an important source of income
But according to a different Reuters article:
Just over 100 small to medium-sized South Korean companies employ nearly 40,000 North Korean workers to make low-tech products such as cooking pots, clothes, shoes and watches. The companies receive tax breaks and other incentives from the South to set up there and pay workers a minimum monthly salary of $70.
The South Korean companies might pay the workers nearly $70/month, but it is no secret that they receive almost none of it. The workers do however, receive some of the most coveted jobs in the country with high labor standards, better amenities and facilities, and the opportunity to secure goods and produce which they can re-sell in local markets to suplement their diminished wages.
And in the 3rd Reuters article on this story, they managed to translate the KCNA report and publish it before KCNA:
"Kim Jong Il, chairman of the DPRK National Defence Commission, on August 16 granted a long audience to and had a cordial talk with Hyon Jong Un, chairperson of the Hyundai Group, and her party on a visit to Pyongyang, and complied with all her requests.

"Accordingly, the Korea Asia-Pacific Peace Committee and the Hyundai Group will execute as follows:

"1. It was decided to resume the suspended tourism of Mt. Kumgang as soon as possible and launch the tour of Pirobong, the highest peak in the mountain. All necessary facilities and security for tourism will be reliably provided according to the special measure taken by Kim Jong Il, chairman of the National Defence Commission.

"2. It was decided to restore land passage of the south side's personnel through the Military Demarcation Line and their stay in the north side's area as they were according to the spirit of the historic October 4 declaration.

"3. It was decided to resume the tourism of Kaesong soon and energize the operation of the Kaesong Industrial Zone as the land passage through MDL is put on a normal basis.

"4. The Hyundai Group decided to begin tourism of Mt. Paektu in accordance with the progress of its preparations.

"5. It was decided to provide reunion of separated families and relatives from the north and the south in Mt. Kumgang on the day of Chusok (harvest moon day), a folk holiday of the Korean nation, this year.

"Both sides expressed will to improve the north-south relations and further develop the cooperation for the common prosperity of the nation under the historic June 15 joint declaration and the October 4 declaration."
UPDATE: Welcome home Mr. Yoo
According to Reuters: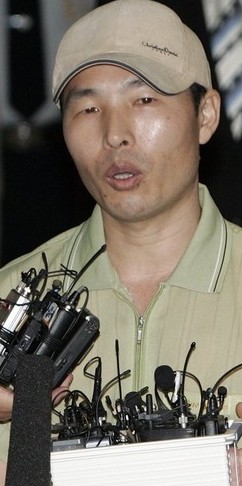 Yoo Seong-jin, a South Korean manager in the Kaesong Industrial Zone who was detained by North Korea, speaks to the media upon his arrival in South Korea. North Korea released Mr. Yoo on Thursday after detaining him for nearly five months for allegedly insulting the North's leaders.
On Monday, Hyundai Group chairwoman Hyun Jeong-eun departed to North Korea's capital of Pyongyang in what local media said would be a bid to win the release of Mr. Yoo.
Mr Yoo has admitted discussing the Kim family with North Korean workers:
"Talking about Kim Jong-Il is forbidden in North Korea, but my brother [Mr. Yoo] said he had talked about Kim Jong-Il, his (Kim's) sister and Kim Jong-Un," Seong-Gwon said. Jong-Un is Kim's youngest son and reportedly has been picked as the successor. Discussion of the ruling family is taboo in the North.
UPDATE 6/23/2009:
Outcome of the June 19 inter-Korean working-level talks
Institute for Far Eastern Studies (IFES)
NK Brief No. 09-6-23-1
During working-level talks between the two Koreas over the Kaesong Industrial Complex on June 19, North Korea revealed that it was ready to ease entrance and exit restrictions that had been in place since December 1, 2008. While North Korean officials expressed a willingness to ease current restrictions, they did not make clear what regulations would be enforced in their place.
Last year, North Korea announced the December 1 Measures, further stalling inter-Korean relations. While easing access measures which limit the time for, and amount of, vehicle traffic in and out of the complex, residence in the complex is still limited to 880 personnel. In addition, there was no progress on narrowing the gap between the positions on the North's demand for greater wages and land rents or on the release of a South Korean worker being held by North Korean authorities.
During the South Korean delegation's 40-minute position speech, Seoul's spokesperson stated that the North's demands for wage and rent hikes were unjust, excessive, and unacceptable. He also demanded the release of Yoo Sung-jin, a Hyundai-Asan employee who has been held in the North for over 80 days now. The South also proposed a tripartite plan for stable development of the KIC:
1) Strict enforcement of agreed-upon inter-Korean regulations
2) Development of the complex without political or military influence
3) A long-term development vision for an internationally competitive industrial complex
In particular, in order to create an internationally cooperative industrial complex, the South pushed for the two Koreas to jointly observe business operations in other countries. The proposal called for a plan to be put into action in July, with observation of Chinese businesses as the first stage, followed by trips to Central Asia, and finally, inspection of businesses in the United States and South America.
The North Korean delegation strongly criticized the recent U.S.-ROK summit meeting, on June 16, and called the U.S. reiteration of South Korean protection under an American nuclear umbrella and peaceful unification under a free democratic system "direct violations of the spirit of the June 15 Joint Declaration." The North also persisted with its demands for 300 USD monthly wage hikes and 500 million USD in land rent, asking that next month's talks begin with these issues.
Differences in the positions of the two Koreas could not be narrowed during these talks, but the North's willingness to ease travel restrictions and to participate in further talks indicates its desire to keep the complex open.
UPDATE 6/12/2009:
DPRK demands wage, rents hikes for Kaesong
IFES Institute for Far Eastern Studies (IFES)
NK Brief No. 09-6-12-1
6/12/2009
North and South Korean working level talks were held on June 11 to discuss the North's new demands for wages and land rents in the inter-Korean joint Kaesong Industrial Complex. After declaring all inter-Korean agreements on the joint complex "null and void" in May, the North has now asked for minimum wages to be quadrupled, and for a 300-fold increase in rent.
The North Korean delegation demanded wages, including social security fees, be raised from 75 USD to 300 USD, and for an annual wage hike of 10~20 percent, rather than the previously agreed-upon 5 percent. There are approximately 40,000 North Korean workers currently employed by 106 South Korean companies in the KIC. The North also demanded that the 16 million USD paid by Hyundai Asan and the (South) Korea Land Corporation for a 50-year lease be increased to 500 million USD.
As the future of the complex continues to be unclear, one South Korean company pulled out of the complex earlier this week. Skin Net, an apparel maker, cited concerns over the safety of its workers and the future of its operations. Kim Yong-ju, president of Skin Net, stated, "We decided to withdraw from Kaesong for the security of our staff. The North's detention of a South Korean worker mainly affected our decision." Several other companies noted concerns of excessive wage demands and geopolitical tensions.
During yesterday's talks, the South Korean delegation tried to address the issue of South Korean worker Yoo Sung-jin, held for 74 days on suspicion of criticizing the North and trying to convince a North Korean worker to defect. North Korean officials only responded that "Yoo was fine," but provided no further details.
The North pushed the South for a quick response to its demands, suggesting that a new round of talks be held on June 19.
UPDATE 6/11/2009: The Fiancial Times reports on the DPRK's recent wage demands:
North Korea on Thursday demanded a four-fold increase in salaries at a trade zone where South Koreans run factories, threatening to kill off the last credible interaction between Seoul and Pyongyang.

North Korea's moves against the Kaesong industrial complex come hard on the heels of a draft UN resolution to pursue tough new sanctions against the communist state. Pyongyang infuriated the UN Security Council by detonating an atomic bomb last month and blasting a long-range missile over Japan in April.

Even without salary increases, the 106 companies that invest in Kaesong are in trouble and have said they are considering making a request for government support. A fur-maker this week announced it would be the first firm to quit since the zone was founded in 2004 as an attempt to forge a rapprochement between the Koreas.

North Korea wanted the minimum monthly wage raised to $300 from $75, according to Seoul's unification ministry. Pyongyang also demanded an immediate, lump-sum land lease payment of $500m.

The companies have already reported a weakening in sales, slipping 6.6 per cent year-on-year between January and April to $74.54m. Exports dropped 56 per cent to $7.15m.

North Korea's tough stance has confounded many analysts who reckoned Pyongyang would not endanger a source of much-needed hard currency. However, the North has also proved hard-nosed on equally vital food aid, banning international workers from distributing grain.
Read the full story here:
N Korea threatens sole contact with S Korea
Financial Times
Christian Oliver
6/11/2009
UPDATE 6/9/2009: According to the Associated Press (via Washington Post), the unnamed South Korean company which has become the first to leave the Kaesong Industrial Zone has now been named:
Skinnet, a Seoul-based fur manufacturer, would be the first South Korean company to stop operations at the complex in the North's border town of Kaesong since it was opened in 2004 as a key symbol of rapprochement and a hard currency earner for the North.

A Skinnet company official said the pullout would be completed this month. He said it was primarily due to "security concerns" for its employees, but also because of a decline in orders from clients concerned over possible disruptions to operations amid the soaring tensions.

Unification Ministry spokesman Chun Hae-sung confirmed the company's decision but renewed Seoul's commitment to developing the complex and asked the North to not to take any unilateral step that could raise concerns among the South Korean companies.

There was no immediate response from North Korea about the planned withdrawal.
According to Yonhap:
Sskin Net, a leather clothing company, notified the Kaesong Industrial Complex Management Committee in Seoul on Monday that it will withdraw factory equipment from the park in the North's border town of Kaesong, citing concerns about the safety of its employees and a decrease in sales. The withdrawal was the first since the joint venture opened in 2004.

The firm's owner, Kim Yong-gyu, said North Korea's detention of a South Korean worker employed at the joint park was the biggest factor in his decision.

"We used to have five workers stay there to manage the factory, but now we manage with only two," Kim Yong-gu, who opened his factory at Kaesong in 2007, said over the telephone. "Even if the possibility (of such detention) is just 0.1 percent, I feel it would be a crime to send my employees there."

Businesses operating at the joint park say their anxiety has considerably risen since the detention of an engineer from Hyundai Asan Corp. on March 30. North Korea has refused to allow access to the worker, identified only by his family name Yu, saying an investigation was underway on charges of "maliciously slandering" the North's political system.

Government data suggests political tensions are already weighing heavy on business performance. Combined overseas shipments out of Kaesong park were US$7.15 million in the January-April period, down 56 percent from $16.27 million during the same period a year ago, according to data from the Unification Ministry.

The companies' output also slipped 6.6 percent from last year's $79.83 million to $74.54 million, despite the increase in the number of firms at the joint park from 72 to 106.
Read the full stories here:
SKorean firm pulls out from complex in NKorea
Associated Press (via Washignton Post)
Kwang-Tae Kim
6/8/2009
First pullout from inter-Korean industrial park raises concerns
Yonhap
Kim Hyun
6/9/2009
UPDATE 6/4/2009: The Hankyoreh reports that some companies in the Kaesong Zone are already preparing for the inter-korean project's shut down:
A number of tenant business officials noted that a company identified by the initial "M" had recently moved its entire facilities south out of the Kaesong complex. "From what I have heard, the contracting company was not providing materials due to concerns about production problems resulting from the hardening of inter-Korean relations, so on May 27 they made the decision and shut down factory operations," said one tenant business official.

Tenant firms also relayed that two companies identified as "B" and "K" had already taken their core facilities and equipment back to South Korea to resume operations again there. In the past, some tenant companies in Kaesong had temporarily taken some of their equipment back into South Korea in order to allay purchasers' concerns, but there have been no cases until now of companies moving their equipment due to concerns of the complex's potential closure.

The fact that some tenant companies are preparing to withdraw their equipment is giving rise to concerns about a possible chain of withdrawals. An official with another company identified as "K" commented, "Concerns that the Kaesong complex might close makes it unclear whether we can meet buyer orders." The official added that the company plans to move its core equipment out of the complex within this week or next week.

Some other companies are showing indications of considering establishing other overseas production bases in countries like Vietnam and Indonesia as an alternative.
UPDATE 5/19/2009:The media is reporting that the DPRK's pointman on South Korea, Choe Sung Chol, has been allegedly executed. Read more here.
UPDATE 5/15/2009: North Korea announced Friday the nullification of all contracts on rent, salaries and taxes at the Gaeseong Industrial Complex, asking the South to empty the industrial estate unless it honors the North's wishes to amend related laws and rules. (Korea Times, Yonhap 1, Yonhap 2)
UPDATE 4/27/2009:The South Korean government announces that if the North unilaterally files formal charges against a detained South Korean worker it will require each South Korean border crosser to obtain a written guarantee of his safety from Pyongyang before leaving South Korea. This would effectively prevent South Korean managers from entering the Kaesong Zone and would likely bring an end to operations there. (read more here)
UPDATE  4/22/2009: DPRK seeks to "renegotiate" Kaesong contracts 
UPDATE 4/12/2009: South Korean government restricts access to Kaesong Zone after launch 
UPDATE 3/30/2009: North detains South Korean Worker 
UPDATE 3/24/2009: According to the Daily NK:
Representative of the Forum for Inter-Korea Relations Kim Gyu Chul claimed in a telephone interview with Daily NK on Tuesday, "Based on the monthly production of enterprises in Kaesong, 24.12 million dollars, and the fact that they lost 25-40% of production, that is, the scale of the damage is approximately 6.08-10 million dollars as a result of this latest issue"

With regard to compensation, "If companies in Kaesong were closed due to the fault of the South Korean government, we could retrieve 90 percent of our investment. Yet, it is hard to get it when North Korea abuses economic cooperation agreements. As a result, in this case, there is no way to get any compensation from either government."
UPDATE 3/20/2009: According to Yonhap (excerpts):
North Korea told South Korea on Friday it will normalize their severed military communication channel as a U.S.-South Korean military drill ended, but the future of a joint industrial complex is uncertain amid the North's ban on border crossing.

North Korea sealed the inter-Korean border three times during the joint military exercise, with the latest closure on Friday. The measure threatened production in the joint industrial complex in North Korea's border town of Kaesong, as hundreds of South Korean workers and cargo trucks were forced to cancel their trips.

Even after the joint drill ended, "North Korea sealed overland passage again, which makes us question whether it is willing to continue the Kaesong industrial complex," Vice Unification Minister Hong Yang-ho said in a press conference.

The arbitrary, repeated closures over the past two weeks sparked fears about doing business in the Kaesong complex.

The North Korean government received $26 million in wages from South Korean firms last year, according to ministry data. The amount was sizable, given the North's estimated export volume of $4 billion.

By closing the border and withdrawing the measure, analysts said, the North showed itself to be in full command of the inter-Korean situation, while the South had few options to take. The Kaesong complex taught North Korea a "new pattern" of pressuring the Seoul government, and Pyongyang will eventually give up the lucrative venture should Seoul maintain its tough policy, said Paik Hak-soon with the non-governmental Sejong Institute in Seoul.

"It's wrong to think North Korea won't make a political decision for the sake of the money that comes from the Kaesong complex," Paik said.

"Politics comes first," he said, citing the impoverished state's recent decision to reject further food aid from the U.S. government.
UPDATE 3/18/2009: According to Reuters:
South Korea warned on Wednesday that it would respond with decisive action if Pyongyang again blocked access to a joint factory park in North Korea, but said it was too early to consider shutting the project down. In the past week, the North has blocked movement across the heavily defended border to an industrial park run by South Korean companies in the city of Kaesong out of anger over joint military drills by South Korean and U.S. troops.

"We are at this point not considering shutting down the Kaesong industrial zone," Unification Minister Hyun In-taek told a forum of journalists.

"But if the North repeats the border traffic suspension after the end of the drills, the government will consider it a very grave situation and will take appropriate measures," Hyun said, without elaborating on possible steps.
UPDATE 3/17/2009: According to the Korea Times, the border between the Kaesong Zone and the South was fully reopened Tuesday.
North Korea Tuesday fully reopened its border for goods and people headed for a joint industrial complex in the communist country, according to South Korean factory owners.

"North Korea informed us overnight that all bans on crossings will be completely lifted today," Yoo Chang-Geun, vice chairman of the Corporation of Kaesong Industrial Council, was quoted as telling AFP.
And taking advantage of the North Korea media focus, human rights groups also sent more balloons across the DMZ containing anti-regime leaflets.  Learn more about this here.
ORIGINAL POST: As reported last week, the global economic downturn has seen an increase in the South Korean won/$US exchange rate.  Since South Korean firms in the Kaesong Industrial Zone pay the North Korean government in $US for labor costs, yet sell their actual output in South Korean won, the marginal cost for labor in the Kaesong Zone has gone through the roof simply as a result of the higher exchange rate.
However, South Korean firms in Kaesong are unable to adjust to the new economic conditions, either by lowering wages or laying off workers, due to restrictive labor contracts with the North Korean government.  With little alternative, some Zone companies are simply not paying the North Korean government—a move which has not been well received. (If the Kaesong Zone does have some kind of bankruptcy laws or procedures, please send them to me.  I have been unable to find them).
If this was not enough of a problem for the Kaesong Industrial Zone, the North Korean government this week cut inter-Korean phone lines in protest of routine US-RoK joint military exercises.  Since cross-border access to the Kaesong Zone is coordinated via telephone, this left many South Korean workers stranded in the DPRK.  I personally believed this was the unintended consequence of a not-well-thought-out order from Pyongyang because shortly afterwards couriers were deployed to sort out the paperwork so South Koreans could return home and the border was reopened.
Three days later (Friday), however, the North Koreans closed the border again. Accordng to Singapore's Straits Times:
Some 610 people and 350 vehicles were blocked from travelling northwards Friday morning, while 275 people set to return south in the afternoon were also unable to cross.

'The North has not given any reason for the (latest) closure of its border, asking our side to wait,' the spokesman said.
Voice of America claims that 400 are stranded. The Austrialian Broadcasting Corp claims 420 are stranded, though 5 non-Koreans have been alowed to leave. Later it emerged that over 700 were stranded.
UPDATE: According to the AP, most of the 700 South Koreans were allowed to leave Monday (3/16):
North Korea has agreed to let some 450 South Koreans head home late Monday afternoon, Unification Ministry spokeswoman Lee Jong-joo said. That will leave about 270 South Koreans in Kaesong tonight, the ministry said. But more than 650 South Korean workers seeking to go to Kaesong on Monday were denied permission to cross the border, officials said.
This is all terrible news for those of us who were fairly hopeful about the Kaesong project, because now we unfortunately can see a pattern.  Late last year, the North Korean government threatened to close the Kaesong Zone unless the South Korean government prevented human rights groups from sending anti-regime propaganda across the DMZ in balloons.  (Results of this effort here).  The last batch of leafets (of which I am aware) was sent across the DMZ on Kim Jong il's official birthday nearly a month ago.
Now Pyongyang seems to be using Kaesong as leverage to pressure the South Korean government into disrupting another of Pyongyang's irritations–joint US-RoK military exercises.  These exercises cost the North Korean military significant resources because they are forced to fully deploy defensive capabilities each time the operations are launched.
I doubt this strategy will be successful because (in my humble opinion) the military exercises are more important to the South Korean government than the Kaesong Zone right now.  Secondly, I believe the Kaesong Zone is more valuable to the North Korean government (which is handsomely paid) than to the South Korean government (which subsidizes the zone).   If this is true, then the Kaesong Zone is not a credible source of leverage because the South Koreans would know the North Koreans would not do anything to "really" jeopardize it.
(UPDATE: The Donga Ilbo offers a quick run down of the zone's benefits to both sides which is posted at the bottom of this page.)
This is assuming, however, that the DPRK government actually values the Zone at this point.  After all, the North Koreans just had one of their best harvests in recent years despite the absence of South Korean fertilizer.  Maybe they do not feel they need to rely on subsidies from the South any longer and the political costs of the Zone are simply too high.  This kind of thinking, combined with recent events, makes me wonder if the DPRK really does want to continue operations at the Kaesong Industrial Zone or whether they are simply laying the groundwork for a scenario in which they can close the zone while credibly blaming the South Koreans? This line of reasoning is mere speculation on my part and will hopefully be proven wrong.
What is truly sad about this situation, however, is the damage it will inflict on North Korea's efforts to attract private foreign direct investment in the future–of which it is in real need.  Political instability such as this reinforces the image that the DPRK is not yet "open for business," and unless something changes, efforts to attract serious entrepreneurial talent and large-scale capital to the DPRK will become much more difficult in the years to come.
UPDATE: South Korea Responds
According to Bloomberg:
South Korea may cut wages or not pay North Korean workers at the Gaeseong Industrial Complex after the government in Pyongyang closed border crossings last week, stopping production at some factories, the Chosun Ilbo reported.

North Korea should realize there will be no pay for "no labor," the newspaper cited an unidentified South Korean government official as saying. South Korean companies pay $3 million a month to North Korean workers in Gaeseong, according to the report.
According to the Donga Ilbo:
North Korea [in the past] agreed to an agreement to ensure access, communication and customs clearance, and another to guarantee the safety of South Korean workers entering and residing at the complex. Pyongyang also promised to protect the rights and interests of investors by enacting a civil law on governing the complex in 2002. Unfortunately the North broke the pact with South Korea and also violated its self-imposed law. Under such circumstances, no one can trust North Korea and engage in economic cooperation with it. The North is hastening its own demise with a closed economy.
According to the Choson Ilbo:
If the blockade continues beyond the end of the drill, another government official said Seoul "may consider asking citizens for their safety to refrain from visiting the industrial park or bringing all those staying at Kaesong temporarily back to the South." So far telephone lines to Kaesong remain operational, but if they are cut off as well, the government here could be forced to pull out South Korean businesses.

But Prof. Lee Jo-won of Chung-Ang University said that is unlikely. "It'll be difficult for the North to take the initiative to close the Kaesong industrial park, given its monthly cash revenue of $3-4 million and about 40,000 North Korean workers there, but it won't be easy for the South to pull out from a symbol of the inter-Korean economic cooperation either," he said. "So I don't think either side will make any rash decision."
Just to add a superfluous comment by Larry Summers:
Why do you think Hong Kong is a better place to do business than Shanghai? Because of the certainty of the contracts. Once the uncertainty factor goes up, the less interested you are in doing business because it becomes a more risky proposition.
UPDATE: What if Kaesong is shut down?
Expected damage to South Korea
According to the Kaesong Industrial District Management Committee and other sources, South Korean companies had 450 billion won (304 million U.S. dollars) invested in production facilities and labor in the complex as of November last year.

South Korea also invested 658 billion won (443 million dollars) to build the inter-Korean Gyeongeui and Donghae railways, roads and a logistics complex, and 311.8 billion won (210.1 million U.S. dollars) to build the complex, power and communication facilities.

If the complex is shut down, chances are high that South Korean tours to the North will end. According to main tour operator Hyundai Asan Corp., South Korea spent 305.7 billion won (205.9 million dollars) from 1998 to late 2007 to build tourist facilities around Mount Kumgang.

Experts say, however, that it is improper to calculate all investment in the Kaesong complex as losses for the South, saying investment in specific infrastructure is required to prepare for eventual reunification of the two Koreas.

The potential bankruptcies of companies investing in the North, growing security fears on the Korean Peninsula, and a decline of South Korea's sovereign credit rating and capital flight, however, are among the possible side effects of the complex's closure.

Damage to North Korea
If the complex is shut down, North Korea will say goodbye to a source of huge revenue. Thirty two million dollars is paid every year to North Korean workers in the complex.

In addition, South Korean tourists to Kaesong generated another 12 million dollars in revenue and those visiting Mount Kumgang 18 million dollars.

North Korea's exports reached 1.1 billion dollars last year. Assuming net export profit of 10 percent, the North earns just a little more than 100 million dollars through foreign trade. Moreover, compensation for inter-Korean economic cooperation and tourism income are major cash cows for North Korean leaders.

More importantly, the jobs of some 37,000 North Koreans will vanish if the complex is closed. This could bring on the collapse of the Kaesong economy and worsen public sentiment there.

Long-term losses for North Korea
South Korea stands to suffer more damage quantitatively over the short-term if the complex is shut down. Considering that the North Korean economy is one 36th of the South's, however, the value of 90 billion won (60.6 million U.S. dollars) is huge for the North.

As such, closure of the industrial complex in Kaesong could be a major strategic fiasco for the North.