This week the Wilson Center's North Korea International Documentation Project (NKIDP) held a conference on the DPRK's chollima campaign and the first five year plan.  For the conference, the Wilson Center published a collection of declassified archival documents.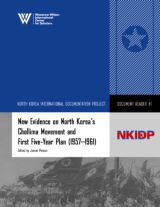 The volume consists of select (East) German, Polish, Chinese, and Czech archival documents that provides context for discussion on North Korea's Chollima Movement, launched in the mid-1950s and recently revived by the North Korean leadership to make the DPRK a "strong and prosperous" state by 2012. The collection, compiled by NKIDP is by no means comprehensive, however, in selecting the materials, the editors sought to include some of the most important materials available and made a substantial effort to mine relevant official archives. The document reader is organized chronologically, starting with December 1956 and ending in May 1963.
Download a PDF of the document here.