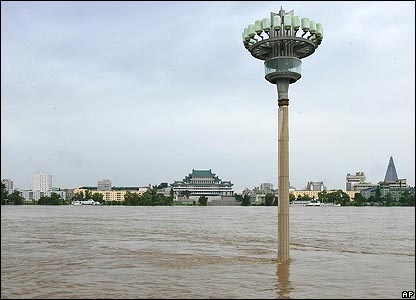 North Korea: Deadly Rains Ruin Big Part Of Farmland
Washington Post
Burt Herman
Associated Press
Thursday, August 16, 2007; A11
North Korea on Wednesday detailed the devastation caused by some of the country's heaviest-ever rains, saying more than one-tenth of the impoverished country's farmland had been wiped out during peak growing season.
The North Korean government reported that hundreds of people were killed or missing in this month's floods, with as many as 300,000 left homeless.
Footage from Associated Press Television News showed citizens working to rebuild roads, clear debris and shore up sandbags along rivers in flood-affected areas outside Pyongyang, the capital. Video images also showed a farmhouse that appeared to have been swept down a hillside by the rain.
If the government's numbers on agricultural damage are confirmed, the destruction would be about one-quarter of that suffered in massive flooding in 1995. That disaster, coupled with outdated farming methods and the loss of the country's Soviet Union benefactor, sparked a famine that is estimated to have killed as many as 2 million people.
The vivid portrait of damage, in reports from the North's state-run media, appeared to be a cry for help from a desperate government that maintains strict secrecy of its internal affairs. But the North has previously exaggerated the extent of disasters to obtain aid and to cover up ineptitude in providing for its people in a centrally controlled economy.
The official Korean Central News Agency reported Wednesday that downpours along areas of the Taedong River were the "largest ever in the history" of measurements taken by the country's weather agency.
An average of 20.6 inches of rain fell across the country from Aug. 7 through last Saturday, 2.1 inches more than downpours in August 1967, KCNA said.
The recent rains have submerged, buried or washed away more than 11 percent of rice and corn fields in the country, KCNA reported, citing Agriculture Ministry official Ri Jae Hyon. "It is hard to expect a high grain output owing to the uninterrupted rainstorms at the most important time for the growth of crops," KCNA said.
The U.N. World Food Program estimated that the amount of damage the North Koreans reported to their fields would result in losses of about 450,000 tons of crops — adding to the 1 million ton annual shortage that the country already faces.
The amount is less than the 2 million tons that the North said was lost in the 1995 floods at the start of the famine, said Paul Risley, a spokesman for the U.N. agency. "Nonetheless, this would be an extremely serious reduction in the amount of the harvest," he said.
The North is especially vulnerable to the annual heavy summer rains that soak the Korean Peninsula because of a vicious cycle in which people strip hillsides of natural vegetation to create more arable land to grow food, increasing flood risks.
U.S. Assistant Secretary of State Christopher R. Hill said the U.S. government was considering how it could help the North Koreans.
The disaster reports precede a planned summit this month between leaders of the two Koreas. South Korea's government has been criticized by opponents at home and abroad for having given unconditional aid to the North during an international standoff over the communist state's nuclear weapons program.
Aid was already expected to be a key topic at the summit. Marcus Noland, senior fellow at the Washington-based Peterson Institute for International Economics, said the latest disaster gives Seoul justification to expand assistance to its neighbor.
North Korea's flooded 'rice bowl'
BBC
8/16/2007
The UN World Food programme's acting country director, Michael Dunford, has just returned from a visit to one of North Korea's flood-affected areas, in the south of the country.
He told the BBC news website what he saw and how the floods are affecting a country already dependent on food aid.
"We went to Sogon, driving for about two hours to get there, and we saw extensive examples of flooding as we went down, with widespread inundation of arable lands which, of course, creates concerns as regards the long-term food implications.
We have been told by the government that the Kangwon province is one of the areas that is worst affected. The impression we are getting is that there is severe damage throughout the southern half of the country, across to the east.
The southern part of the country is the main food-producing area. As you go further north it is more mountainous and hence their ability to produce is limited.
The area that has been inundated is part of the 'rice bowl', hence this creates additional concerns as to what impact that may have.
We estimate that annually there is a food deficit of about a million tons of cereals – that's maize and rice. So, in the past, North Korea has relied on bilateral, from China and South Korea predominantly, and also and multilateral support through the World Food Programme.
Collapsed houses
Last year, the amount of food that entered the county did not meet the food gap and hence we were concerned about the implications that was going to have for food security in the country and potentially the impact that may have on the most vulnerable.
Certainly for them to have the floods this year is only going to exacerbate the already food insecure situation in the country.
People are managing as best they can. We understand from the government that those who have lost their homes are now residing in either their place of work or some form of community shelter – either a schools or nursery, we expect.
We were dealing with local officials. They tell us that the waters have inundated houses, houses have collapsed, factories have been completely inundated and roads and bridges have been washed away. Certainly the impression we are getting is that this is very severe flooding.
We saw bridges that were knocked down, we saw roads that had been washed away. The infrastructure is typically old and anything that damages it further is going to have implications.
Wiped out
The landscape in the southern area is a combination of flatlands with quite dramatic mountains, there are fields with hills and mountains shooting up.
There are small villages and co-operative farms. These are very rudimentary houses – typically handmade.
People may have a small plot in the front of the house in which they try to grow their own vegetables – potatoes, beans, carrots, tomatoes – they are then surrounded by more extensive farmlands which have been damaged by flooding.
In one area, we were looking at what we thought was a river running through a field of maize but it was in fact the offshoot of a flooded river. Crops have just been wiped out.
We also saw a lot of areas that were completely underwater, knowing that the rice would not be able to recover.
This is the period of pollination and, hence, because the rice is underwater during this period, it won't germinate and hence won't produce for the harvest due in September-October.
N Korea floods devastate farmland
BBC
8/15/2007
Severe flooding in North Korea has destroyed more than one-tenth of the country's farmland, according to the state news agency KCNA.
"As of 14 August, more than 11% of rice and maize fields were submerged, buried or washed away," Ri Jae-Hyon, director of the Ministry of Agriculture, said.
Government officials also told aid workers in the region that 300,000 people may have been left homeless.
Aid teams visiting the area warned of a need for emergency shelter and food.
"Going forward, the crop damage is of major concern," Michael Dunford, of the UN World Food Programme, told the BBC.
He added that he had been to see some of the damaged areas, and described the situation as "pretty grim".
Food aid
"Areas of the capital, Pyongyang, have been inundated," he said, "but certainly as you move out into the countryside there is widespread damage, and it is going to have a negative impact on DPRK [North Korea] most certainly."
North Korea already suffered from severe food shortages, even before the floods.
About two million people are thought to have died from famine in the mid-1990s in North Korea, and the country remains dependent on foreign food aid.
United Nations Secretary General Ban Ki-moon has ordered a full evaluation of the needs of North Koreans and has promised assistance to the communist nation.
"I assured him that the United Nations will be prepared to render whatever possible humanitarian assistance and help to the DPRK (North Korean) government and people overcoming this difficulty," he said after a meeting with North Korea's UN envoy Pak Gil-yon.
The US and South Korea have both said that they would consider sending aid.
'Huge damage'
North Korea made the rare plea for help after it announced late on Monday that storms since 7 August had led to "huge human and material damage".
State news agency KCNA said hundreds of people were dead or missing.
Many areas were affected but worst hit were the three provinces of Kangwon, North Hwanghae and South Hamgyong, it said.
Television pictures from the capital Pyongyang showed people wading along streets through thigh-deep water after rivers burst their banks.
These floods are thought to be worse than the ones that hit last year. Hundreds of people are thought to have died in August 2006, but exact figures are not known.
Heavy rainfalls render 17,000 North Koreans homeless
Yonhap
8/15/2007
Hundreds of people were killed or missing in North Korea in heavy downpours that battered the impoverished communist country last week, a North Korean official said in a report on Wednesday.
The downpours, which flooded even the center of its capital, Pyongyang, and wide sections of the country's western region, also left about 17,000 people homeless, said the official from Pyeongan Province in a report carried by Pyongyang Radio. 
South to Help North Recover From Floods
Korea Times
Jung Sung-ki
8/14/2007
South Korea is considering sending relief supplies to help the North recover from severe flooding, the Ministry of Unification said Tuesday.
Hundreds of people are dead or missing in North Korea following week-long torrential rain that has destroyed thousands of houses, and damaged roads and railway tracks, the North's state media reported.
"North Korea seems to be suffering a greater loss of lives and property than it did during July's flooding last year," Seo Sung-woo at the ministry's intelligence analysis bureau told reporters.
"I don't think the inter-Korean summit will be affected by the floods. However, if the rains continue, it is hard to predict," said Seo.
In 2006, monsoons rains hit much of the impoverished state, killing hundreds of people.
Floods in July that year left over 500 people dead and nearly 300 people missing, according to the Chonson Sinbo, a Japan-based pro-North Korean newspaper.
In the following month, Seoul sent $82 million worth of aid to Pyongyang. The South provided the North with 100,000 tons of rice and cement, five tons of iron, construction equipment, 80,000 blankets and 10,000 emergency kits, according to the ministry.
The North's official Korean Central News Agency said this year's heavy rain destroyed at least 30,000 homes of 63,300 families, and more than 540 bridges and sections of railway.
The agency said heavy downpours had caused "huge human and material damage." Many parts of the country received between 30 and 67 centimeters of rain from Aug. 7 to 12, it said.
Gangwon Province was hit the hardest, with more than 20,000 homes damaged or destroyed.
Pyongyang and neighboring provinces including South Hwanghae and South Pyeongan were also badly affected, according to the report.
Experts blamed decades of reckless deforestation for North Korea's flood problems, saying the country has been stripped of tree cover that provides natural protection.
The International Federation of the Red Cross (IFRC) emergency operations staff is on a 24-hour alert to monitor flood damage in North Korea and has distributed aid kits to some 500 families, its Web site said.
"People have been evacuated and brought to safety," it said, and county governments are "appealing to cooperative farms to donate emergency food for homeless people."
International Red Cross goes on alert in North Korea on flood damage
Yonhap
8/13/2007
The International Federation of Red Cross (IFRC) emergency operations staff is on a 24-hour alert to monitor flood damages in North Korea and has distributed aid kits to some 500 families, its Web site said Monday.
A bulletin dated Sunday said the torrential rain that started Aug. 5 has caused serious flooding in many parts of North Korea.
"People have been evacuated and brought to safety," the IFRC Web site said, and county governments are "appealing to cooperative farms to donate emergency food for homeless people."
"Warnings of high tides have been issued on national television. Indeed, weather forecasts predict continued heavy rains until Aug. 17."
The Red Cross emergency operations room is on a 24-hour alert, it said, with its staff in the field assessing damage.
In a rare admission of a crisis, North Korea's state run news agency said Monday the downpour so far has left hundreds of people dead or missing and destroyed more than 30,000 homes for 63,300 families.
The Korean Central News Agency said hundreds of public buildings, bridges and railway sections also were destroyed.