Eugene Bell Foundation (Hat tip D."S."B.)
207 C Street, SE, Washington, DC 20003   
TEL: 202-393-0645   
FAX: 202-543-2390
For more information:
Alice Jean Suh; [email protected];
+1-202-329-2410
EugeneBell Returns from 2007 Spring Visit to North Korea Initiates Maternal and Infant Care and Children's Care Programs
The Eugene Bell Foundation earlier this month visited 17 medical institutions in the Democratic People's Republic of Korea (North Korea) and launched two groundbreaking community health projects targeting the country's most vulnerable groups: new mothers and infants, and school-aged children.  From May 1-12, EugeneBell's chairman, Dr. Stephen Linton, and four delegation members visited city, district, and county medical institutions in North Korea's South Pyongan Province. All 17 institutions received shipments of assistance as part of EugeneBell's Partner Package Program 
New Maternal and Infant Care Program and Children's Care Program
EugeneBell confirmed the new programs' first deliveries of instructional materials, equipment and supplies at two local hospitals in Sunchon and Anju, cities in South Pyongan Province. These new programs will be implemented in three steps to ensure transparency. Our delegation received agreements from the medical staff at both institutions to implement the first step, with the understanding that progress to the second and third steps will require proof of adherence to EugeneBell's standards on further visits. These new programs signify groundbreaking advances in EugeneBell's work. In addition to providing training, equipment and supplies for entire institutions, these programs have also tailored assistance to individual patients. For the first time, EugeneBell will partner with doctors at the most basic level of care in North Korea's system. All citizens in North Korea are assigned family care physicians. EugeneBell's new programs will strengthen the ability of family doctors to treat individual patients more effectively and transparently.  "I am very excited about this new opportunity to help insure that pregnant women receive the best care possible from early pregnancy through child-birth," said Dr. Linton. "We hope to help North Korean caregivers manage child health from the womb all the way through grade school, the most critical period for human development."  The initial phase of these two new programs received an enthusiastic welcome from hospital staffs. EugeneBell plans to extend this effort to other local hospitals as funding becomes available.
Equipment and Training Upgrades for Local Hospitals Dramatically Improve Local Healthcare
During this visit the delegation was able to evaluate the effectiveness of a program to upgrade diagnostic and surgical capacity at seven out of 40 plus medical facilities supported by EugeneBell. The delegation was impressed at the level of technical sophistication achieved by North Korean caregivers after receiving comprehensive training manuals last year. Through self-study North Korean technicians had, in a surprisingly short time, mastered the use of complex diagnostic equipment and had even made minor repairs.  "It was very impressive," said Dr. Linton, "to see North Korean technicians operating advanced equipment previously unfamiliar to them. More impressive was the level of cooperation between hospitals that had received the same equipment. When we first started this program, these hospitals were empty because patients had little hope of receiving adequate treatment.  Now that they have new equipment, previously empty hospitals are filled to capacity. Patients wait in line to be examined by the new equipment. "It's worth the effort to watch these hospitals come back to life."
Support for Children with Tuberculosis
On this visit the delegation found a new emphasis on treating children with tuberculosis. Several new children's wards have been established to provide better care for young patients in South Pyongan Province, Nampo City and Pyongyang City. Children are particularly at risk of tuberculosis when their immune systems are weakened by poor nutrition. In response to the new emphasis on childhood tuberculosis by North Korea's health authorities, EugeneBell will include a system for providing assistance directly to young patients this fall.
Medical Institutions Visited
During May 1st – 12th EugeneBell visited 17 North Korean medical institutions in: South Pyongan Province and Nampo City, South Pyongan Province Tuberculosis Hospital (TBH), Children's Ward-South Pyongan TBH, South Pyongan Province Children's Hospital, Anju City Tuberculosis Care Center (TBCC), Pyongsong City TBCC, Bukchang County TBCC, Sunchon City TBCC, Daean County TBCC, Ryonggang County TBCC, Anju City People's Hospital, Sunchon City People's Hospital, Daean County People's Hospital, Chollima County People's Hospital, Nampo City TBH, Nampo City TBCC, Waudo District People's Hospital, Hanggu District People's Hospital 
Total Results of Support in Spring 2007: $ 1,793,717.21 This spring EugeneBell shipped a total of $1,793,717.21 worth of medical goods to 45 medical institutions in North Pyongan Province, South Pyongan Province, Pyongyang City and Nampo City.  
EugeneBell in Action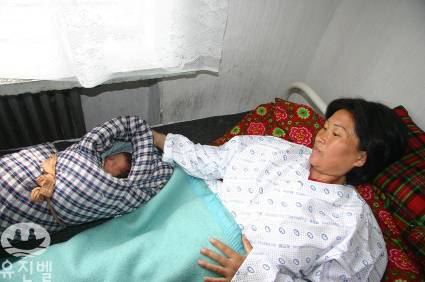 1. New mother and infant at the Anju City People's Hospital, part of EugeneBell's new Maternal and Infant Care Program.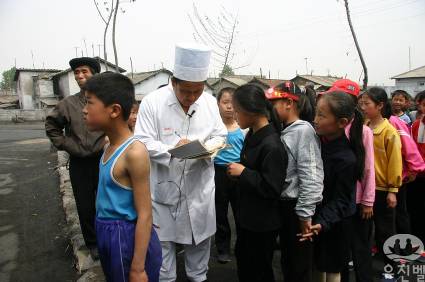 2. Children in Anju City being given health physicals, part of EugeneBell's new Children's Care Program.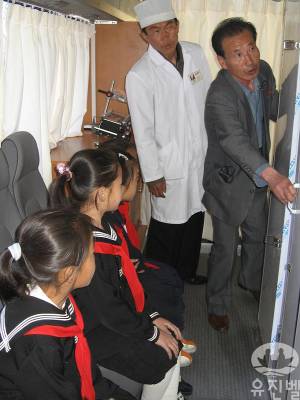 3. Grade school students are examined at a mobile X-ray vehicle donated through EugeneBell to Nampo Tuberculosis Hospital.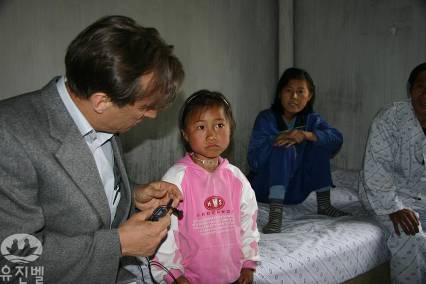 4. Dr. Linton interviews a young patient at the Children's Tuberculosis Ward at Nampo Tuberculosis Care Center.

5. A patient is examined with a sonogram donated through EugeneBell at Daean People's Hospital.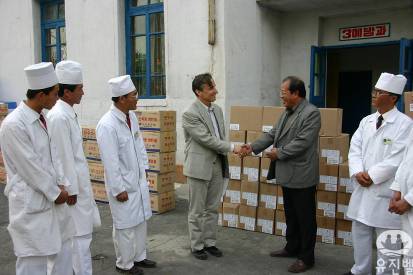 6. Dr. Linton (left) delivers medical supplies and equipment to Chollima People's Hospital in South Pyongan Province. In the spring of 2007 EugeneBell shipped almost 1,800,000 dollars of medical assistance to 40 odd medical facilities.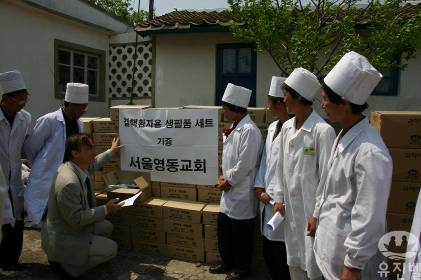 7. Through EugeneBell donors sent 2,200 sets of Patient Necessities Kits to long-term patients in sixteen tuberculosis care centers. EugeneBell does everything possible to identify donors to recipients.