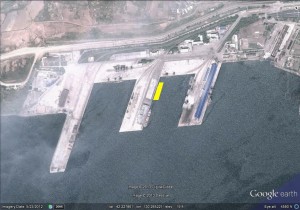 /p>
Pictured Above (Google Earth): The location of the Singaporean ship at Rason Port (in Yellow). The pier to the right is rented by the Chinese.  The pier to the left is rented by the Russians.
UPDATE 1 (2013-3-6):  Yonhap offers more details on the ship and its mission in the DPRK:
Beijing-based Young Pioneer Tours said Pyongyang has authorized seven, four-day tours to the port and resort on its east coast from late April though mid October.

The Royale Star, a small cruise ship owned by a Singaporean shipping company, will be used to ferry foreign tourists, with the company claiming passengers will get a chance to see unique marine vistas off Rajin and Mount Kumgang, one of the top natural tourist destinations in North Korea.

The vessel is 138-meters-long, has a beam of 28 meters and is able to carry a large number of passengers and crew. The ship has a duty-free shop, hair salon, bar, rest areas and a restaurant-theater.
ORIGINAL POST (2013-2-26): According to KCNA:
Singaporean Tourist Ship Opens Business at Rajin Port of DPRK

Pyongyang, February 20 (KCNA) — The Singaporean tourist ship "Royale Star" opened its business with due ceremony at Rajin Port in the northeastern DPRK on Feb. 20.

Present at the ceremony were officials and other people of DPRK and Chinese institutions related to tourism and people in Rason City.

Kim Chun Hwa, director of the Rason International Travel Company, the director of the Yanbian Tianyu International Travel Company of China, and Zheng Yuanhui, owner of the ship, made speeches at the ceremony.

They said the start of business by the ship is of great significance in developing tourism in the Rason Economic and Trade Zone, adding it will contribute to bringing about a turn in the services for tourists.

They expressed thanks to the DPRK for its cooperation in the preparations for the start of the ship's business.

They stressed the need to improve the services and inject fresh energy into Rason-Mt. Kumgang tour and the businesses in the zone.

At the end of the ceremony its participants toured cabins and other facilities of the ship.

A reception and an art performance were given on the same day.
Here is footage from KCNA: