Chocolate bust: On 2012-8-16 this chocolate bust of Kim Jong-un was on display in the Museum of the famous Chocolate supplier Ritter in Waldenbuch, Germany.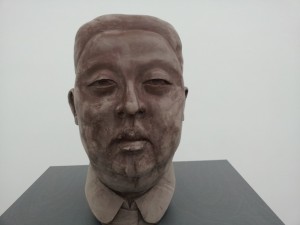 Comrade Kim goes Flying: [Official web page here] The new North Korean film got an audience at the Busan International Film festival. According to Yonhap:
The film, which cost approximately 1 million euros to produce, is a three-way collaboration between North Korea filmmaker Kim Gwang-hun, Daelemans, and British entrepreneur Nick Bonner, whose Beijing-based company, Koryo Tours, has been taking global tourists into North Korea since 1993.

…

"Where this film differs from North Korean movies, though there are North Korean romantic comedies, is that this is a film about girl power," said Bonner. "It is a film about a young girl achieving her dream — for herself."

…

"When we wrote the script it was never our intention to put propaganda in but to make a movie for North Korean people, that is why we had to make those lines," conceded Daelemans. "We tried to avoid putting a Western stamp on the movie, we wanted to stay as close to North Korean culture as possible."

The filmmakers say they suffered no censorship from Pyongyang authorities, but there were cross-cultural issues — one of which appears specially designed to sink a romantic comedy.

"In Europe, a kiss is nothing on film, but in North Korea, a kiss is not possible," said Daelemans. "But that is not so strange — in Bollywood films they don't kiss either."

While no romantic comedy might be expected to focus on the North Korean issues that capture headlines — missiles, nuclear programs, human rights abuses, malnutrition — the film's publicist is working to ensure that cynical reporters pick up the film's positive vibe.

The Busan audience on Wednesday, largely youthful South Koreans, appeared charmed, laughing at all the right moments.

"It was a bit like South Korean soap operas and home dramas with family settings," said audience member Hwang Yun-mi, a 32-year-old teacher of English and film studies. "It was not alien to me."

It is too early yet to discuss commercial releases. Their North Korean partners hold the rights in North Korea, while Bonner and Daelemans have the rights for the rest of the world.

They may hope to fare commercially better than the last European-North Korean co-production: The forgettable Italian-North Korean actioner "Tenzan: The Ultimate Mission" (1988) was described by one reviewer as "truly lamentable."

However, a key market may be tricky to enter. With South and North Korea technically at war, all Pyongyang media is blocked by Seoul authorities, making it uncertain whether "Comrade Kim" can be viewed by South Koreans outside film festivals, where censorship is lifted.

Even so, Bonner said that South Korean authorities last month granted special permission for the film's cast to visit South Korea for the festival; unfortunately, there was no time to arrange their visit. And he was delighted at South Koreans' reaction to the film's Busan premiere.

"Showing this film here, right now, having Han Jong-shim being loved in the north of the country and for you in the south to love her too — that is more than Anja and me could ever have dreamt," he said following the screening.
The Associated Press has also released some more footage of the film:
Korean war footage: While exploring YouTube, I found this video made from USAF archival footage.  It shows USAF pilots planning and executing an attack on railway bridges in Anju and what used to be the Nampho Smelter. Quite interesting:
Pyongyang Sinmun Advert: According to the Korea Times:
The ads in the Pyongyang Sinmun include those for flowers and flowerpots; "hanbok" or traditional Korean dress; and a water-heating device using solar power. Analysts say new leader Kim Jong-un is tinkering with the economy after pledging to improve living conditions.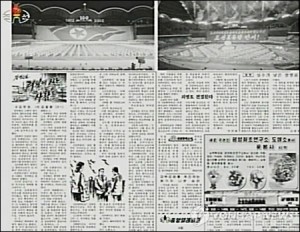 Flower kiosks have gone up in several places in Pyongyang–most notably at the Pyongyang Maternity Hospital (how thoughtful). I suppose flower consumption is on the rise!
The solar powered water heaters are produced in a factory in Mangyongdae. Based on discussions with former North Koreans I assume these water heaters are valued for providing warm bathing water–a rarity for many North Koreans.
This is what wikipedia has to say about the Pyongyang Sinmun:
Pyongyang Sinmun (Pyongyang News) is a North Korean newspaper founded on 1 June 1957 by Kim Il-sung.[1] It launched an online version on 1 January 2005.[2] It is published by the Workers' Party of Korea Pyongyang Municipal Committee[3] six times per week under the editorship of Song Rak Gyun.[4]
I am not sure where it is found online.