I have been traveling and very busy this week! So despite the world clamoring for information on everything happening in the DPRK, the last thing I have time to do is actually sit down at my computer and post it all.
However, a very helpful (and appreciated) reader located the DPRK's "General Launch Command Center" and passed along the Google Earth coordinates for me to share with you: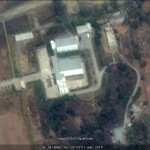 It is located in Ryongsong-guyok (룡성구역), Pyongyang.  You can see it on Google Earth at:  39.146957°, 125.773111°
Martyn Williams pointed me to this ground level photo which matches the satellite image.
A friend also sent in this article on the launch (which is well worth reading) and this explanatory graphic.
Information on the other events taking place in the DPRK this week will be posted over the weekend.