According to Yonhap:
North Korea is believed to be gearing up for a nuclear test, an intelligence official said Sunday, a move certain to fuel the already high tensions over its planned long-range rocket launch.

Satellite images show the communist nation digging a new tunnel underground in the Punggye-ri nuclear test site in the country's northeast, where it conducted two previous nuclear tests, first in 2006 and then in 2009.

The construction is believed to be in its final stage, the official said.

"North Korea is making clandestine preparations for a third nuclear test at Punggye-ri in North Hamkyong Province, where it conducted two nuclear tests in the past," the official said on condition of anonymity.

Commercial satellite imagery showed piles of earth and sand at the entrance of a tunnel in the Punggye-ri site. The soil is believed to have been brought to the site to plug the tunnel, one of final steps before carrying out a nuclear test blast.

A nuclear test following a long-range missile test fits the pattern of North Korean behavior.
The Daily NK also reported on the satellite images: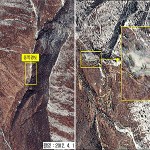 From the Daily NK:  Two satellite images of the Pungye-ri test site. The left image shows three test shafts (labeled 'West', 'East' and 'South'), while the right focuses on the mound of excavated earth growing at the entrance to the 'South Shaft'
"Evidence from recent satellite images has confirmed that apart from the existing two test shafts at the Pungye test site, North Korea is excavating a new shaft, and that this work is in the final stages of completion," the source went on.

In the satellite images from U.S. commercial earth observation satellite 'Quickbird', a growing mound of dirt can be seen near the new tunnel entrance. It has been constantly growing since last month, according to analysts.

In the case of past tests, the completion of the test shaft represented almost the final stage of preparations for the test, suggesting that, as speculated, North Korea is planning to use the pretext of international pressure that is sure to follow its rocket launch to undertake such a test.

"They are implementing their original plan, which was to test their nuclear weapons and delivery systems," Korea Institute for National Unification researcher Cheon Seong Whun asserted to Daily NK by phone. "It is unrelated to UN Security Council resolutions pursuant to the rocket launch and all of that. They will conduct a nuclear test after the missile launch."
ISIS also provides some helpful analysis:
South Korean press has reported recently that North Korea is preparing to conduct another nuclear explosive test at the same site as its 2006 and 2009 tests. These reports cite recent satellite imagery showing an increase in the amount of dirt adjacent to a test shaft. ISIS has obtained commercial satellite imagery taken on April 1, 2012. This new imagery shows what appears to be an increase in the size of a pile of material at the test site (see figures 1 and 2), though it is unclear if such an increase is necessarily evidence of an impending nuclear test.

In 2010, satellite imagery showed evidence of excavation work in the form of a growing pile of earth or other material at the site and led to speculation that a test could follow. However, a test did not occur. This same pile of material is now growing again, as seen in the April 1, 2012 imagery. A recent report from South Korean intelligence reportedly assesses that the "…dirt believed to have been brought from other areas is piled at the tunnel entrance…" It assesses that this dirt would be used to "plug" the tunnel before conducting a test. In other words, South Korean intelligence reportedly assesses that the growth in the pile of material seen in the newest satellite imagery is not evidence of tunneling activity for a test shaft but rather evidence of bringing in material from elsewhere. According to these reports, North Korea would use this material to plug a shaft in advance of a nuclear explosive test, which by implication could happen soon. However, it is possible that the increase in material seen in the April 1, 2012 image is resulting from further excavation of a test shaft, and not evidence of an intention to plug the shaft before a test. Moreover, even if the South Korean report is correct, the test may not be imminent.

ISIS will continue to collect and assess satellite imagery of the test site.
ABOVE:  An October 16, 2010 commercial satellite image of the same site.  The pile of material appears smaller in this image.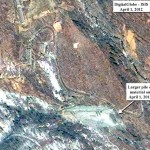 ABOVE: An April 1, 2012 commercial satellite image of the nuclear test site in North Korea.  A pile of material adjacent to a reported test shaft entrance appears to have grown, compared to an October 16, 2010 satellite image of the same site.  It is not clear, however, if this is necessarily evidence of an impending nuclear explosive test.
I have posted links to previous articles hinting at a third nuclear test below:
1. 2010-11-23: Nuke test number three?
2. 2011-2-21: Drilling at Punggye-ri continues