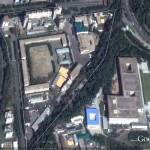 Pictured above (Google Earth): KPA Unit 963 (Escort Bureau/Guard Command) in Pyongyang.  See in Google Maps here.
On July 14th, KCNA reported that Kim Jong-il visited the command of KPA Unit 963.   According to the Daily NK:
Kim Jong Il has conducted an onsite inspection at No. 963 Base of the Chosun People's Army, Chosun Central News Agency reported this morning. No. 963 Base is operated by Escort Command, the unit charged with overseeing the safety of the Kim family.

Taking in the base's revolutionary history museum, Kim is said to have proclaimed, "This army base repelled the united imperialist factions including America, carrying out the noble mission and duty of the Fatherland Liberation War. The personnel from this base are keeping alive this proud tradition, and will surely be known in future too for the splendor of protecting the fatherland with one hundred wins in one hundred battles."

Kim also expressed his great satisfaction at the work of the officers in command of the base, commending their readiness to carry out their duty on the battlefield with superior strategic and command abilities.

The report also went on to explain, "This base has inherited the bright tradition of defending the Suryeong with their lives pioneered in the forests of Mt. Baekdu and our revolutionary chronicles, has defended the Party and Suryeong and in the process turned out dozens of distinguished individuals, including 72 heroes of labor and 28 heroes of the Republic.

Kim was accompanied on the inspection by son Kim Jong Eun, Jang Sung Taek and another member of the Party Central Military Commission, Kim Kyung Ok.
According to Joseph Bermudez (The Armed Forces of North Korea):
The State Security Department and the Guard Command are the agencies most directly responsible for the security of Kim Chong-il and only he is reportedly exempt from their scrutiny. (p 199)
This compound recently acquired a new facility (probably the focus of the visit):
Additional information:
1. Here, here, and here is some additional information on the Escort Bureau (Guard Command).
2. Kim Jong-il's military related visits this year: On February 2 Kim Jong-il visited KPA Unit 6556 and the Jongsong Combined Medical Institute of the Korean People's Army. On March 16th he visited a factory under KPA Navy Unit 597. On May 4th he visited an undisclosed new KPA Sports Complex (This could possibly be at Kim Jong-il Political Military University which recently received a similar new facility).  Kim Jong-il also attended KPA cultural events on February 2, February 9, March 13, April 15, April 22, June 10, July 1, and July 2.
These are not his only military-related public appearances since he has also visited several factories suspected of being dual-use complexes, including the Namhung Youth Chemical Complex, Kanggye General Tractor Plant, Hungnam Fertilizer Complex, and the January 18 General Machinery Plant.