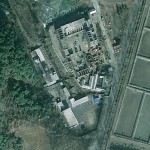 Pictured above (Google Maps): No. 91 Office
According to the Daily NK:
No. 91 Office, as it is known, is allegedly run under the auspices of the General Bureau of Reconnaissance.

A defector with substantial experience of conditions there offered information on the situation as far back as 2006 at the NKnet-organized "2011 North Korean Cyber Terror Seminar."

The defector was unable to attend the seminar in person due to fears for his safety, but via pre-produced materials he explained how No. 91 Office is located in a set of two two-storey buildings in the Dangsang-dong of Mankyungdae-district, and how he entered the buildings on a number of occasions thanks to his relations with traders and cadres affiliated to it.

Additionally, satellite images were used to show the location of the office, just 300m from Ansan Bridge across the Botong River.

The defector also detailed the staff of No. 91 Office; the head, in 2006 a PhD-holding colonel in his 40s, a Party secretary ranked lieutenant-colonel, a similarly-ranked National Security Agency agent and around 80 staff, all in their 20s and 30s.

The 80 staff, all excellent minds selected from Kim Il Sung University, Chosun Computer University, Kim Chaek University of Technology and other elite schools, often spoke of 'business trips' to Shenyang and Dandong in China, the source explained.

The No. 91 Office-affiliated trade arm had five workers at the time, and is known as the 'May 18th Trading Company, he added. Through it, the No. 91 Office allegedly obtains the equipment to do its work and provides hackers and other staff with daily necessities.

The unit has a 35-seater bus and two cars with number plates starting with '33' or '34', officially denoting vehicles belonging to the Mining Industry Department of the Cabinet.
Here and here are previous post on the Reconnaissance Bureau.
Here is a post on similar cyber warfare units in the DPRK: Mirim College and Moranbong University
Read the full story here:
No. 91 'Hackers HQ' Revealed
Daily NK
Kim So Yeol
2011-6-1