UPDATE: Lots of great information in the comments.
ORIGINAL POST: According to Naenara (Link won't work from South Korea):
The Korea General Corporation for External Construction (GENCO) is a professional enterprise for overseas construction.

GENCO has gained a good reputation from many countries around the world as a credible constructor with a long history of 50 years since its inauguration in January 1961.

It has scores of affiliated building enterprises involving a number of designers, building operators and skilled workers as well as foreign languages and other experts.

GENCO has built lots of dwellings and public establishments in Kuwait, and recently completed the 64-storied Al-Fardan Tower, an ordered project, in a short span of time in Qatar.

GENCO is looking forward to contracts for construction projects such as dwelling houses, public buildings, metros, tunnels, bridges, airports, harbours and stadiums in different countries in diverse forms such as the whole construction work and dispatch of skilled workers.
I had assumed that all overseas constructions projects were under the auspices of the Mansudae Overseas Development Group (MODG), but it appears that there is a rival firm picking up construction contracts.  This would not be surprising since the DPRK often duplicates functions so that the leadership is not reliant on a singe source of information and revenue–plus a little competition between agencies offers the employees an incentive to increase profits which they can remit back to Pyongyang.  It could also be the case that th GENCO and MODG have split the market.  MODG sticks to monuments and GENCO sticks to more traditional construction projects.
Pictured below is a Google Earth image of the Al Fardan Towers in Doha, Qatar (25.320952°, 51.529404°):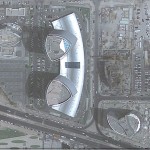 I am not sure to what extent GENCO was involved in the project. They claim to have built one of the towers, but I find it hard to believe that they built the whole thing lock, stock, and barrel since it would be impossible to develop the necessary skills in the DPRK. Additionally, there are no comparable buildings in the DPRK.  In all liklihood, GENCO is a company that simply provides construction workers who are low cost and travel from job to job remitting their hard currency earnings back to the DPRK.
Here are some, though not all, previous posts about other construction projects by MODG or GENCO.  Although I have not published it, I have an extensive list of these projects on Google Earth.
If a reader is aware of GENCO's construction projects in Kuwait, please let me know.