UPDATE: According to Michael Rank:
Two power stations are under construction on the Yalu river between China and North Korea, a Chinese website reports.

They are both small plants with an installed capacity of 40,000 kilowatts and both are situated near the border town of Ji'an 集安 in southwestern Jilin province, near the border with Liaoning.

The dams are set to be finished in 2013. Negotiations concerning construction have been protracted: a preliminary agreement was reached in July 2004, followed by a further agreement in August 2008 and a final accord last January.

The Wangjianglou or Lintu 望江楼(林土)dam will be based on the Chinese side of the river with investment totalling 600 million yuan ($88 million), while the Wenyue or Changchuan 文岳(长川)dam will be based on the North Korean side with investment put at $500 million ($73 million). The report did not say how power, or costs, would be shared between the two countries.

A ceremony marking the beginning of construction was held on March 31, attended by North Korean vice-minister of electricity industry Kim Man-su and Jilin vice-governor Chen Weigen.

The plants will each produce 154 million kilowatt-hours per year. The Wangjianglou dam is 397 metres long and 16 metres high, while Wenyue is 602.7 metres long and 15.5 metres high. They are 36 and 24 km from Ji'an, respectively and are 1.5 and 5.5 km from North Korean railway stations (Rinto린토 and Mun'ak 문악 – these are the Korean names of the dams).

These dams are very small scale compared with the world's largest dams, which run into thousands of megawatts (440 kW is just 0.44 MW).
ORIGINAL POST: According to the AFP:
China and North Korea will build two hydro-electric dams on the Yalu River that marks their border, Chinese state media reported on Thursday.

The dams will cost a total of 1.1 billion yuan (161 million dollars) and generate a combined 308 million kilowatt hours of electricity when completed, China Central Television reported.

The announcement came amid reports that North Korean leader Kim Jong-Il would soon visit China in a trip that could revive talks on ending Pyongyang's nuclear drive.

Xinhua news agency said one dam would be built at Wangjianglou in China's northeastern Jilin province and the other at Changchuan.

Electricity from the dams would help "drive economic growth in Jilin and North Korea," it added.

It was not immediately clear how the two sides would share the cost of the projects or the electricity.

Construction would begin this year.

North Korea, desperately poor after decades of isolation and Stalinist economic policies, is heavily dependent on China for trade and aid.

South Korea's government said this week there was a "high level of possibility" that Kim would pay a visit to China, the reclusive regime's closest ally.

The South's Yonhap news agency cited diplomatic sources saying he might leave for China as early as Thursday or Friday.

China's foreign ministry declined to confirm the reports.

After an October visit to Pyongyang by Chinese Premier Wen Jiabao, Kim said his nation would rejoin the six-nation denuclearisation talks which the North stormed out of in April of last year.

The talks group hosts China, the two Koreas, Japan, the United States, and Russia.
Adam Cathcart offers a translation of the Xinhua dispatch:
中朝两国在鸭绿江新合建的两座水电站开工   // China and North Korea to Begin Construction on Two New Shared Hydroelectric Plants

Huanqiu Shibao, April 2, 2010 [translated by Adam Cathcart]

新华网吉林频道3月31日电(记者李双溪)31日, 中国与朝鲜在界河鸭绿江上共同建设的两座水电站开工。这两座电站总投资为11亿元人民币 ,建成后年发电量达3.08亿千瓦时。其中,望江楼(朝鲜称林土)电站计划投资6亿元,发电厂位于中方一侧,电站主要由混凝土重力坝、泄水闸、电站厂房及变电站等部分组成。On Jilin's newschannel on 31 March, Xinhua's reporter Li Shuangxi broadcast that China and North Korea would start joint construction on two hydropower plants in the border areas of the Yalu River. Investment on these two power plants will total 1.1 billion yuan, and the year after completion, they are projected to have a power generation capacity of 308 million kilowatts.  Among these plants are the Wangjiang Station (called Lintu by the Koreans), which is slated for 6oo million RMB of investment.   The power plant on the Chinese side will be a concrete gravity dam with a sluice gate and substation components.

[Lots of details follow on dam dimensions, projected electric output…It seems clear that China will bear all of the cost, though.]
2004年7月中朝双方审查通过了两座电站的初步设计,2006年中国有关部门批准了建设方案。2010年1月,双方在朝鲜签署了《中朝建设鸭绿江望江楼和文岳电站第九次会议纪要》,一致同意两电站开工建设。 In July 2004, China and the DPRK jointly reviewed the preliminary design of the two power stations.   In 2006, the Chinese authorities approved the construction plan.  In  January 2010, the two sides signed an agreement in North Korea known as the "Minutes of the Ninth Meeting on Sino-North Korean Construction of Yalu River Dams at Wangjianglou and Wenbing," in which it was agreed to commence with the construction of the two power stations.

发源于长白山主峰、总长约795公里鸭绿江水能资源丰富,流经过吉林省和辽宁省。 目前在吉林省境内中朝双方已建有云峰、渭源两座水电站。 望江楼、文岳电站将成为双方共同受益的水电站,对开发鸭绿江、拉动吉林省和朝鲜的经济增长将起到积极的促进作用。Originating in the main peak of the Changbai Mountain range, with a total length of 795 km, the Yalu River is a rich resource flowing through Jilin and Liaoning provinces.  Currently, on the borders of Jilin Province, China and the DPRK have already built two jointly benefitted-from hydropower plants called Yunfeng and Weiyuan.  The Wangjianglou and Wenbing power stations will be built for of mutual benefit, developing the Yalu River, driving forward continued economic development between Jilin province and North Korea, playing a positive role.
I am not sure where these dams are going just yet.  The DPRK and China already share 4 dams across the Yalu. Here are satellite images of them (Dam 1, Dam 2, Dam 3, Dam 4).  Unfortunately I do not know the names of most of them, but Dam 2 is now known as the Suphung Dam.  It used to be called the Suiho Dam and it was bombed during the Korean war: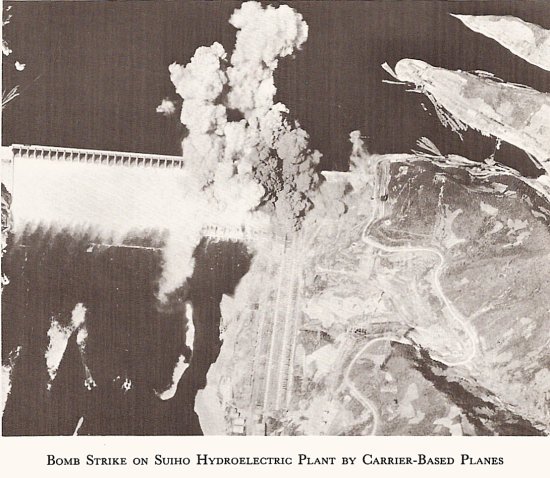 Read the full story here:
China, N.Korea plan Yalu hydropower dams: reports
AFP
4/1/2010