With Planet Labs imagery, we are able to get improved and affordable access to some remote places in North Korea which allows us to keep better track of changes than is possible with just Google Earth or Google Maps. Here is a small example…
Analysis of the North Korean media indicates that Kim Jong-un spends a lot of time in Wonsan. As we all know, he has a family compound there that was visited by Dennis Rodman and his delegation. At this compound, we can observe several unique boats that are only seen in Wonsan (pictured below).
Kim Jong-un also stores some of these at a separate maintenance facility in central Wonsan (with some other boats that are at his disposal):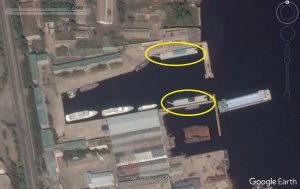 There are five of these particular boats as far as I am aware. They are approximately 50m-60m in length. From satellite imagery, it appears they are mostly differentiated by the amount of cover they provide. They may each offer different services, but I have not been able to see many ground-level photos of these boats. As best I can tell, they are not self-propelled and have to be pulled to new locations.
Based on Google Earth imagery I was under the impression that these deck boats were simply transferred back and forth between the two locations mentioned above (Kim compound and storage facility), but with planet imagery, we can see that they are used more widely.
According to imagery form Planet Labs, two of these deck boats were deployed to Tae-do in the summer of 2017.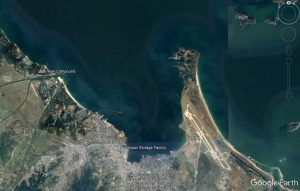 The first boat shows up in Planet Labs imagery of Tae-ri (below) on May 24, 2017, and it is visible until August 30, 2017.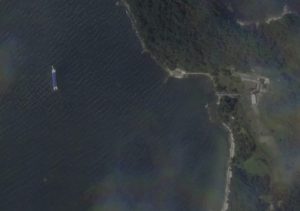 The second boat appears in Planet Labs imagery at the same location on September 7, 2017 and is gone by September 13, 2017.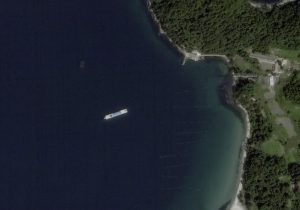 So it appears (superficially) that either Kim Jong-un left one of his leisure craft docked off the island to use whenever he felt like "getting away," or perhaps it is being used by senior personnel in the military as a "perk."
As for the island itself, Kim is never reported to have made a guidance visit to it. It is most well known for hosting a small naval ship repair unit, so there may always be some service personnel within view of the boat.