I am on Christmas holiday, but took a quick minute to write this blog post about North Korea's newest Special Economic Zone.
According to KCNA (2017-12-23):
SPA Presidium Decides to Establish Kangnam Economic Development Park

Pyongyang, December 23 (KCNA) — The Presidium of the Supreme People's Assembly of the Democratic People's Republic of Korea decided to establish Kangnam Economic Development Park in several parts of Koup-ri, Kangnam County of Pyongyang.

The DPRK is to exercise sovereignty over Kangnam Economic Development Park.

A decree on the decision of the SPA Presidium was promulgated on Thursday.
North Korea announced fourteen new SEZs in 2013, seven new SEZs in 2014, and 3 new SEZs in 2015. None were announced in 2016. This is the first SEZ to be announced in 2017, and it was announced just a day after UNSC voted to tighten sanctions on the country.
Although the article does not give many specifics, I believe this project aspires to be a manufacturing/ processing/ shipping hub built on the Taedong River. But we will learn more later, no doubt.
See Google Earth image of the area below: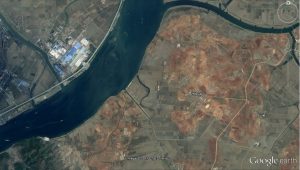 Koup-ri has over 4km of waterfront property along the Taedong River and a partially completed port at  38.876443°, 125.572246°.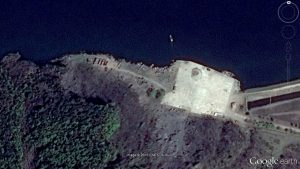 It also has a new fish farm constructed sometime after September 2015: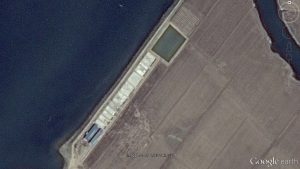 North Korea and SEZs:
My impression is that to date North Korea had scaled back expectations on their many SEZs to focus on Rason Economic and Trade Zone and Wonsan-Mt. Kumgang International Tourist Park (neither of which are expected to see much growth owing to international sanctions measures, North Korea's corrupt business environment, poor infrastructure, and poor human human rights record). A few other SEZs have seen some construction progress or are occasionally mentioned in the official media, but have seen little progress (nothing to make up for losses at the Kaesong Industrial Zone). These include the Hwanggumphyong and Wihwado Economic Zone (Management Commitee Building constructed), the Sinuiju International Economic Park (Chinese Tourist Zone constructed), the Kangryong International Model Green Park (advertised in official media), the Unjong Hi-Tech Development Park (advertised in official media), and the Mubong Special Park for International Tourism (new border crossing and limited construction).
Seeing this announcement was a surprise to me.
More later. Happy holidays.