Various overseas groups of Koreans are visiting the DPRK to mark the fifth anniversary of the death of Kim Jong-il. Most of them are mentioned fairly regularly in the official media, but a couple of the business groups were new to me. According to Rodong Sinmun (2016-12-19):
Delegation of Korean Business Persons in China Arrives

A delegation of the Association of Korean Business Persons in China led by Chairman Phyo Song Ryong arrived here Friday to commemorate the fifth anniversary of demise of leader Kim Jong Il.

Earlier, arriving was a delegation of the Association for Economic and Cultural Exchange of Korean Nationality in Dandong City of China headed by Chairman Kim Thaek Ryong.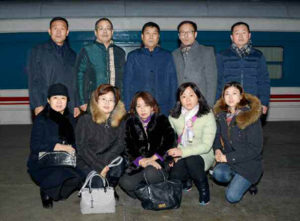 UPDATE: They reportedly left on 2016-12-21.
Here is a link to a PDF of the original article.
If anyone knows anything about these groups (Chinese names, affiliated businesses, etc) please let me know.