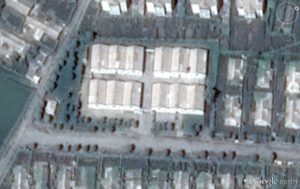 Pictured Above (Google Earth): A 2016-8-21 image of the general market (종합시장) at the Yongbyon Nuclear Research Center residential complex.
Needless to say, security at the Yongbyon Nuclear Research Center is tight, and not much is known (publicly anyhow) about the lives of the people who live there. However, with commercial satellite imagery (and a little know-how), we can get a glimpse of life inside the security perimeter.
No doubt the residents of the compound live in "gilded cages," enjoying above-average standards of living but under greater control and surveillance. However, in June of 2003, the year that the DPRK legally converted decades-old "farmers' markets" to "general markets" (a change that involved not only a change in name, but also a change in administration), the DPRK constructed a new general market for residents of the Yongbyon Nuclear Research Center which appears to have replaced the smaller outdoor farmers' market.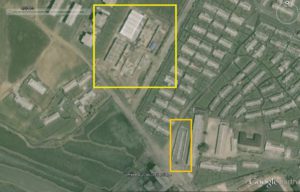 Pictured above (Google Earth: 2003-6-2): Construction of the new general market outlined in yellow. Structure of the former farmers market that was torn down in orange.
The market appears to be composed of four warehouses each with a floor-space of appx 550 square meters (2,200 square meters total). It is possible that each building specializes in some form of commerce (food, household goods, etc). In some of the historical imagery of the market we can see people outside meandering between the buildings.
It is interesting to think that there are vendors here who are probably not related to the nuclear program. No doubt these individuals would have to be granted security clearances to work in this market.
But perhaps most notably about the residential quarter, we can see 15 new apartment buildings being constructed over the last couple of years.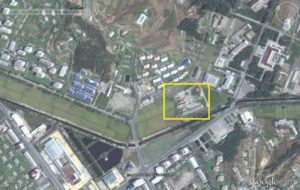 (Google Earth: 2014-9-24)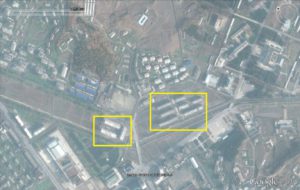 (Google Earth: 2015-11-9)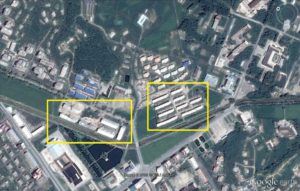 (Google Earth: 2016-8-21)
I do not know if these new apartments are for scientists or janitors, but their construction marks a not-so-subtle signal that employment in the area is on the increase.
Here is coverage of my work on this post in RFA and KBS (English, Korean).