I have been busy with a number of projects, so I have not kept up with the flooding as I would have liked to. But here is a quick data visualization project I was able to quickly put together this morning.
KCNA reported the following:
Railroad Restoration Pushed forward

Pyongyang, September 13 (KCNA) — The restoration of railroads progresses apace in the flood-hit northern areas of North Hamgyong Province, the DPRK.

As of Sept. 10, over 35 400 cubic meters of mud was removed from 30-odd sections with railroad beds restored in 20 sections.

Railway tracks were reconnected between Komusan and Musan and between Komusan and Haksong, and railway service reopened between Paekam and Kulsong, Komusan and Sophungsan, Komusan and Hakpho and Haksong and Namyang.
Here is a quick map of the affected areas: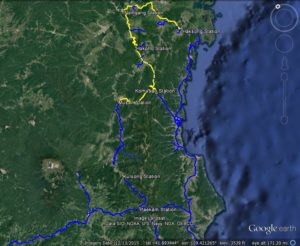 The areas that the DPRK claims to have cleared are in yellow. The original railway line is in blue. The stations are labeled so you can see where the DPRK claims to have resumed service.
You can see KCTV footage of the repairs here:
There is still no high-resolution satellite imagery for sale of the affected area.
Here is a map of the affected areas.