Sometime between 2015-5-25 and 2016-6-27 a new candidate for what may be North Korea's smallest formal market (시장) was built in remote Komsan-ri, Hyesan City, on the Chinese border.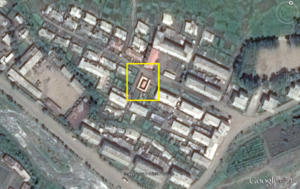 The Market is approximately 17m x 12m and consists of a central table and possible vending space around the perimeter.
There may be a smaller formal market somewhere in the DPRK, but I can't think of one at the moment.
Here are some other recent changes that have taken place in Hyesan (new customs office, orphanages, renovated railway line progress (to Samjiyon) and some renovated train stations.