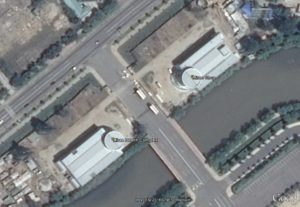 Pictured above: The Mirae Shop (R) and Mirae Health Complex (L)
Institute for Far Eastern Studies (IFES)
Mirae Shop' (literally 'future shop') has reopened, showing the importance and privilege being placed on developing science and talented people in the Kim Jong Un era. The store is located along the banks of the Pothong River in Pyongyang. On April 12, state media outlet Korean Central News Agency (KCNA) reported that "since the store's reopening in early April, it has been packed with scientists, engineers and people coming in every day."

Mirae Shop was first opened in 2012 and recently moved to its current location. The store's architecture portrays rockets and earth-like pillars holding up the roof. The store sells domestically produced goods such as home appliances, cosmetics, daily necessities, and food.

The name of the shop was chosen to by Kim Jong Un to commemorate the late Kim Jong Il's visit to the store in January 2012. He ordered during on-site instruction last March to "open the store as soon as possible to let not only scientists and engineers but everyone to come and shop as much as they please."

Prior to the construction of the store, Kim Jong Il himself took charge of the store's site, architectural design, construction, construction materials, and products guarantee policy and on December 15, 2011, just before his death, he ordered for "the store to be used by scientists and engineers."

Mirae Shop opened initially in 2012 in Pyongyang to commemorate the 100th anniversary of Kim Il Sung's birth. It was opened for scientists and engineers to shop. KNCA also introduced the store and explained how the name was chosen by Kim Jong Un. The report also underscored how development of science and technology is the key factor in the country's prosperity.

According to KCNA, this store has a variety of popular products from home appliances to groceries and has a wide range of customer services such as personal tailoring, watch/clock repairs, elevators wide enough to accommodate shopping carts, and fountain drinks served in the lounge.

The store is used mainly by the employees and researchers from Kim Il Sung University and Kim Chaek University of Technology and scientists from the National Academy of Science.
I have also written about the Mirae Shop and Health Complex in Radio Free Asia.
Here are some photos and information posted to Naenara.