ITEM 1: The PATENTED "Ostar Blood Purifying Health Watch"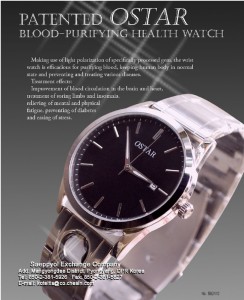 I don't buy any watch that does not purify my blood. It is the second most important attribute after accurately telling the time. Who knew that wearing more gaudy jewelry would actually improve your health?!
ITEM 2:  North Korean magicians make handicapped children disappear!
The North Korean Disabled Arts Association put on an impressive performance of music, dancing, and magic. This video marks the first time I had heard of the group or seen its impressive performances. However, I did have to groan, when at the 15:51 mark the North Korean magician put a handicapped girl (in a wheelchair) into a large box only to make her disappear. This is creepy because for much of its history, North Korea has not treated the disabled well (to put it mildly). It's as if North Korean magicians are carrying out the national policy right there on stage. By the time the "Snow White and the Seven Dwarfs" performance begins at the 37:40 mark, I thought, "Are there any little people left in Pyongyang?" We know from declassified documents and other sources that they were deported from Pyongyang, and probably sterilized, from very early in the nation's history.
Still, perhaps the creation of this group, and the public airing of its performances, indicate that a new and more inclusive era has arrived in DPRK society. This may be one of the ways that foreign NGOs have changed North Korean social norms for the better.
ITEM 3: The more things change, the more they stay the same. Kim Jong-un's 3-D cinema glasses immortalized for posterity.  Another great use of state resources…