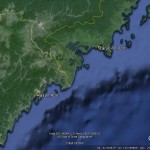 Pictured above (Google Earth) the relative locations of Rason and Zarubino Ports
According to Port Technology International:
China and Russia are to join forces and morph Russia's Zarubino Port into one of the biggest ports in northeast Asia, according to the Chinese People's Daily.

Zarubino Port is at the far south-eastern tip of Russia and a stones throw from North Korea, and only 18km from China.

North-east China's Jilin province and Russia's Summa Group reportedly signed a joint-agreement concerning the rejuvenation of the port at the fourth Conference on Interaction and Confidence-Building Measures in Asia (CICA), in Shanghai in May, 2014.

It is planned that the Zarubino Port will have the ability to handle 60 million tonnes of cargo once construction is completed.

ECNS, an English-language Chinese news source, reported a Summa deputy president as stating the planned port will be multifunctional, and is intended to "hugely benefit China and Russia".

The port will be used to serve as a key port in ensuring the security of food provisions.
Read more at Voice of America.
Zarubina port is only 80km (directly) north-east of Rason. It will be interesting to see what kind of effect this project will have on development at Rason.