UPDATE 15 (2014-11-16): Clapper details his trip to the DPRK (Washington Post, New York Times, The Atlantic).
UPDATE 14 (2014-11-12): Fowle speaks to the press about his time in North Korea and his release. Voice of America.
UPDATE 13 (2014-11-9): 38 North has more on Clapper's mission here.
UPDATE 12 (2014-11-8): Matthew Miller and Kenneth Bae have been released! According to the New York Times:
North Korea released two Americans who had been accused of trying to subvert the secretive state, after the director of national intelligence for the United States flew to the country on a secret mission and left on Saturday with the men aboard his aircraft.

The plane carrying the Americans — Kenneth Bae and Matthew Todd Miller — and the national intelligence director, James R. Clapper Jr., landed at Joint Base Lewis-McChord, near Tacoma, Wash., about 9:15 p.m. Pacific time on Saturday.

Mr. Bae walked off the plane and into the embrace of relatives on the tarmac. Mr. Miller, his head shaved, sprinted down the steps into the arms of his parents, who were waiting for him at the bottom.

Securing the releases was an unusual role for Mr. Clapper, the nation's most senior intelligence official, whose job is to coordinate policy and operations among the nation's 16 spy agencies. Gruff, blunt-speaking and seen by many in the Obama administration as a throwback to the Cold War, the retired general is an unlikely diplomat but, in the words of one American official, "perfect for the North Koreans."

Mr. Miller, 25, entered North Korea seven months ago and reportedly tore up his visa, and by some accounts sought asylum. He was charged with unruly behavior, and North Korean officials suspected he was trying to get inside one of the country's feared prison camps, to write about it later.

Together with the release last month of Jeffrey E. Fowle, who had been held for six months, the decision to let the two Americans go is the latest evidence that Kim Jong-un, North Korea's unpredictable and untested young leader, is trying his first approaches to the Obama administration since taking power. Officials would not say whether Mr. Clapper traveled with a letter from President Obama — which would be a usual approach — but a senior administration official said he "was there to listen," and to "reiterate our views."

Mr. Obama said Saturday that "we're very grateful for their safe return," and praised Mr. Clapper for successfully completing what he called "a challenging mission."

…

The administration issued almost no details of the trip to North Korea, saying communications from Pyongyang were so scant that they did not immediately know what had taken place in the discussion.

…

Mr. Miller, of Bakersfield, Calif., had seemed a bit lost in the interviews he had been allowed to conduct for American television from the North. He went through a brief trial this fall; photos released by the North showed him with eyes downcast, and flanked by uniformed security officials.

He was accused of entering North Korea with the "ambition" to deliberately violate North Korean law so he could experience life in a North Korean prison and become a first hand witness about the human rights conditions in the North, The Associated Press and The Choson Sinbo, a South Korean paper, reported at the time of the trial.
Here is coverage in the Wall Street Journal.
UPDATE 11 (2014-9-25): Matthew Miller reports on prison life.
UPDATE 10 (2014-9-19): Jeffrey Fowle has been removed from his job at the city of Moraine, Indiana. Sounds like he got a severance package and the ability to be reinstated. Read more here.
UPDATE 9 (2014-9-14): Miller has been sentenced: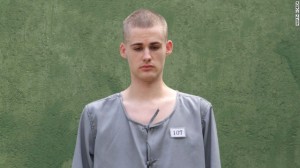 Read more at the BBC and Associated Press. Here is the AP's video.
Here is the report in KCNA:
U.S. Citizen Tried in DPRK

Pyongyang, September 14 (KCNA) — A trial of U.S. citizen Miller Matthew Todd was held at the Supreme Court of the DPRK on Sunday.

He committed acts hostile to the DPRK while entering the territory of the DPRK under the guise of a tourist in last April.

The court sentenced him to six years of hard labor.
Several days later, on September 20, KCNA published this longer piece on Miller:
KCNA Releases Detailed Report on Truth about Crime of American

Pyongyang, September 20 (KCNA) — The Korean Central News Agency released the following detailed report on Saturday:

Recently another American was arrested and tried for committing criminal acts against the DPRK.

A due legal judgment was passed on the American for his crime committed as part of the U.S. anti-DPRK human rights campaign and he admitted his crime and accepted the judgment.

However, officials of the present U.S. administration responsible for his crime took issue with the just legal action taken by the DPRK like a guilty party filing the suit first. They raised unreasonable "human rights issues" in a foolish attempt to cover up the crimes perpetrated by Americans.

Upon the authorization, the KCNA discloses the truth behind the crimes committed by American Miller Matthew Todd.

He was sentenced to six years of hard labor at a trial held on September 14. He entered the DPRK as a tourist on April 10, 2014 and rudely behaved, tearing off his tourist visa when he was going through formalities for entry at Pyongyang Airport. So, he was put in custody by a relevant organ.

The results of the investigation made it clear that he did so not because of simple lack of understanding and psychopathology but deliberately perpetrated such criminal act for the purpose of directly going to prison after being intentionally reprimanded by a legal organ of the DPRK, pursuant to the present U.S. administration's anti-DPRK campaign, spying on "human rights" performance and making it known to the world.

On the basis of this investigation the DPRK Supreme Public Prosecutors Office issued warrant of arrest for Miller Matthew Todd and accused him of criminal responsibility according to Article 64 of the Criminal Law of the DPRK and put him in custody.

According to the preliminary examination, Miller Matthew Todd left a university halfway and remained jobless in Yongdungpho District, Seoul City of south Korea. There he had inveterate hostility towards the DPRK while systematically listening broadcasting programs and reading publications of the U.S. and south Korea slandering the DPRK.

He believed that people in the DPRK have neither freedom nor human rights and if they disobey the government they would be subject to a miserable prison life. So, he had a foolish idea of spying on prison and human rights situation while experiencing "prison life" after intentionally committing crimes in violation of the law in the DPRK.

He tried to find a way for entering the DPRK. It was his calculation that when he kicked up a fuss tearing off tourist visa while going through formalities for entry as a tourist he would be arrested by a relevant organ and taken to "prison". So, he applied for tour through a travel agency in the U.S.

Prompted by the intention to refurnish his image before finding his way to "prison" he had prepared a memo book in advance. It contained the following sentences: "I seek a political asylum. I am seeking refuge after failing in my attempt to collect information about the U.S. Government. I am planning to open to public information like Snowden."

He, at the same time, prepared iPad and iPod he claimed containing important information about the military bases of the U.S. imperialist aggressor forces in south Korea which he gathered by having access to internet and papers containing invectives against the north let loose by defectors from the north he obtained by visiting them.

According to the already worked out scenario, he tore off his tourist visa while going through formalities for entry and insisted that he came in pursuit of "refuge" and he sought "political asylum".

He confessed during the preliminary examination that he tried to meet American Kenneth Bae who had been sentenced to hard labor if he succeeded in going to "prison" and have negotiations for Bae's "release" and become "witnesses" together with Bae disclosing the "human rights" situation in the DPRK after leaving prison.

As proved by his confession, the crime committed by Miller Matthew Todd was prompted by his sinister political aim to deliberately slander the DPRK in the light of his aim, preparations and implementation of his plan.

He perpetrated the above-said acts in the hope of becoming a "world famous guy" and the "second Snowden" through intentional hooliganism. This is an intolerable insult and mockery of the DPRK and he, therefore, deserved a punishment.

What mattered was that his crime timed to coincide with the reckless remarks made by officials of the present U.S. administration including Secretary of State Kerry terming the dignified DPRK a "country of evil" over its rocket firing and elections to power bodies in March and April this year, and the smear campaign over its "human rights issue."

What he committed was espionage coming under Article 64 of the Criminal Law of the DPRK.

This case of the American helps the army and people of the DPRK recollect what miserable end American spies met after being arrested before infiltrating into the prisoners' camp where a lot of American POWs including Dean, commander of the 24th Division of the U.S. imperialist aggressor forces, were in custody, for the purpose of spying on it during the last Fatherland Liberation War.

Much water flowed under the bridge and old generation was replaced by a new one but the shameful tradition of the U.S. in which it was hit hard and sustained heavy setbacks by the DPRK historically and the latter's proud tradition in which it meted out a stern judgment to the former, the kingpin of plot-breeding, are given steady continuity and these law-governed two traditions will last forever.

The Supreme Public Prosecutors Office of the DPRK brought the Supreme Court an indictment against the American as the truth about the crime committed by the accused was confirmed by his statement and evidence.

The Supreme Court of the DPRK held a trial of him on Sept. 14.

There was no pleading by the counsel as the accused rejected it and the trial was held in camera according to his request.

At the trial he admitted that he committed the crimes, prompted by his political motive to personally spy on the "human rights" situation in the DPRK and disclose it in a bid to isolate and stifle the DPRK's system.

The Supreme Court of the DPRK sentenced Miller Matthew Todd to six years of hard labor according to Article 64 of the criminal law.

The army and people of the DPRK are now watching with vigilance the forces behind the scene as Miller's crime was committed in pursuance of the U.S. hostile policy toward the DPRK and strongly calling for ferreting out all those who dare provoke the dignified DPRK and meting out a merciless punishment to them, no matter who they are and where they are.

The disgusting U.S. which is behaving in the international human rights arena as if it were an inborn "judge" and those who are acting like tiger moths, talking about "human rights" pursuant to its line will not be able to escape a judgment by the era and history and the present U.S. administration clinging to the evil repugnancy toward the DPRK and its inveterate hostile policy toward the latter will not be able to evade the responsibility for the recent case of the American.
UPDATE 8 (2014-9-1): CNN was given an interview with the three detained Americans, Mr. Fowle, Mr. Miller, and Mr. Bae. Here is coverage in Reuters.
You can see the video of Mr. Miller's interview here.
You can see the video of Mr. Fowle here.
UPDATE 7 (2014-8-2): Fowle and Miller interviewed:
Eric Talmadge writes in the AP:
In their first appearance since being detained more than three months ago, Matthew Todd Miller and Jeffrey Edward Fowle told a local AP Television News crew that they were in good health and were being treated well. They also said they were allowed to take daily walks. The brief meeting was conducted under the condition that the specific location not be disclosed.

Fowle said he fears his situation will get much worse once he goes on trial.

"The horizon for me is pretty dark," he said. "I don't know what the worst-case scenario would be, but I need help to extricate myself from this situation. I ask the government for help in that regards."

It was not clear whether they were speaking on their own initiative, or if their comments were coerced. The TV crew was permitted to ask them questions.

North Korea says the two committed hostile acts which violated their status as tourists. It has announced that authorities are preparing to bring them before a court, but has not yet specified what they did that was considered hostile or illegal, or what kind of punishment they might face. The date of the trial has not been announced.

Ri Tong II, a North Korean diplomat, declined to answer questions about the Americans at a news conference Friday at the United Nations. But when pressed in a follow-up question he said their cases were "legal issues" and they had "violated our law."

Fowle arrived in North Korea on April 29. He is suspected of leaving a Bible in a nightclub in the northern port city of Chongjin, but a spokesman for Fowle's family said the 56-year-old from Miamisburg, Ohio, was not on a mission for his church. Fowle works in a city streets department. He has a wife and three children, ages 9, 10, and 12.

"The window is closing on that process. It will be coming relatively soon, maybe within a month," Fowle said of his trial. "I'm anxious to get home, I'm sure all of us are."

Fowle also produced a letter he said he had written summarizing his experience in North Korea.

The attorney for Fowle's family said Friday his wife hadn't seen the video, but had read news reports about his comments.

"I can tell you that she is very upset, as you can imagine," said attorney Timothy Tepe. He said he and the family were still gathering information and likely would have a statement on Monday.

Less is known about Miller, or about what specific crime he allegedly committed.

North Korea's state-run media have said the 24-year-old entered the country April 10 with a tourist visa, but tore it up at the airport and shouted that he wanted to seek asylum. A large number of Western tourists visited Pyongyang in April to run in the annual Pyongyang Marathon or attend related events. Miller came at that time, but tour organizers say he was not planning to join the marathon.

"I expect soon I will be going to trial for my crime and be sent to prison," Miller said. "I have been requesting help from the American government, but have received no reply."
James Pearson writes in Reuters:
American tourist Jeffrey Fowle was arrested by North Korean authorities for leaving a bible under a bin in the toilet at a club for foreign sailors, a source familiar with Fowle's case told Reuters.

During his ten day trip to North Korea, Fowle's fellow travellers described the middle-aged street repairs worker from Miamisburg, Ohio as a warm, amiable, quiet man.

On May 4, towards the end of an evening spent eating and drinking in Chongjin, a large industrial city on North Korea's east coast, Fowle's action led to him being thrown in jail, where he is awaiting trial in one of the world's most inhospitable countries.

He left a bilingual English-Korean bible in the restaurant he and his fellow travellers were about to leave, the source, who wished to remain anonymous because of the sensitivities surrounding the case, told Reuters.

In it, Fowle had written his name and phone number, and inserted photos of himself and his family between its pages.

He was arrested three days later at the airport where he was due to board a flight out of North Korea.

Fowle and fellow detained U.S. tourist Matthew Miller – who was arrested in April for a separate incident – said they will face trial soon and have called on the U.S. government to help secure their release in an interview to the Associated Press, released on Friday.

A hand-written letter from Fowle shown in the interview confirmed he was arrested for intentionally leaving a bible in the northern city of Chongjin.

It is unclear why Fowle left the bible, the source familiar with Fowle's case said. Media reports in Ohio said the 56-year-old is a church goer and was once a member of his school's bible club – but there is little evidence to suggest he was a missionary.

The source familiar with Fowle's arrest also said he did not seem overtly religious.

Yet, at the Chongjin Seamen's Club – a faded compound originally designed as a hostel for visiting mariners that sells foreign whiskeys and serves local food – Fowle wrapped a bilingual English-Korean bible bound in fake leather in a Chinese newspaper and hid it the restroom, under a bin designed to discard the used toilet paper North Korea's ageing plumbing can't handle.

A cleaner found the package, and alerted local authorities.

When his guides asked if anyone had left anything at the club – a small cluster with shops, a sauna and noodle restaurants also open to locals with the cash to spend on cheap drinks – he said it was him, and that he "must've dropped it."

Fowle said at the time the bible had "fallen out of his pocket" when using the squat toilet, but the bible was too big to be pocket-sized, the source said.

While North Korea technically espouses freedom of religion it is ranked as one of the world's most oppressive regimes in terms of such freedom. Pyongyang has dismissed recent reports on its oppression of religion as an attempt by the United States to "tarnish the image" of the isolated country.

Two months before Fowle visited North Korea, Australian missionary John Short had been arrested for leaving bible tracts at areas open to tourists in the isolated country. Short, 75, was released on account of his advanced age after state media released a written apology.

Fowle appeared in an Associated Press video on Friday alongside Miller, who was arrested for ripping up his tourist visa and attempting to claim political asylum, according to state media.

North Korea has three U.S. citizens in custody, including Kenneth Bae, a missionary of Korean descent who was arrested in November 2012 and convicted and sentenced to 15 years hard labour last year.

FOWLE'S ARREST

Chongjin is one of the most sensitive cities open to tourists visiting North Korea. The scene for much of journalist Barbara Demmick's 'Nothing to Envy' book, based on a collection of interviews, it is the very epitome of the grim, grey Orwellian North Korea recalled by defectors.

"They don't mess about in Chongjin," one tourism source with experience of working in the city said.

If Fowle had hidden a bible anywhere else in North Korea, he probably wouldn't have been arrested, sources in the North Korean tourist industry said. Sources working in North Korea are often forced to remain anonymous when talking to the press for fear of state reprisal or loss of business.

If the staff at the Seamen's Club who found the bible had told Fowle's guides, and not the authorities, they might have avoided the arrest too, the source familiar with his arrest said.

Fowle hid the bible on May 4. He later admitted to the group that he had left it there deliberately, for "someone to read."

The rest of Fowle's group didn't talk to him when they heard what he had done. They felt he had put them in danger.

After the incident, Fowle had two days of normal sightseeing in Pyongyang, where he took photos of large bronze statues of North Korea's former leaders, Kim Il Sung and Kim Jong Il.

He was arrested on May 7, once he cleared customs at Pyongyang's Sunan airport.
UPDATE 6 (2014-6-30): KCNA (see also here) reports the following:
Suspicions about Hostile Acts by American against DPRK Confirmed

Pyongyang, June 30 (KCNA) — The Korean Central News Agency made public the following report on Monday:

The relevant organ of the DPRK has made investigation into American tourists Miller Matthew Todd and Jeffrey Edward Fowle who were detained while perpetrating hostile acts after entering the territory of the DPRK.

According to the results of the investigation, suspicions about their hostile acts have been confirmed by evidence and their testimonies.

The relevant organ of the DPRK is carrying on the investigation into them and making preparations for bringing them before court on the basis of the already confirmed charges.

Contact with an official looking after consular affairs, treatment, etc. in the course of investigation are being made in line with the laws of the relevant country.
Here is coverage of the announcement in the Wall Street Journal,
Reuters offers this helpful summary of related events:
HAPHAZARD LEGAL SYSTEM

North Korea's haphazard and inconsistent legal system makes it difficult to predict the outcome for the detained tourists.

It has detained and then released other Americans in the past year, including Korean War veteran Merrill Newman, whom it expelled last December after a month-long detention based on accusations of war crimes related to his service history.

Australian missionary John Short was arrested in February this year for leaving copies of bible verses at various tourist sites during his stay. Short, 75, and Newman, 86, were released on account of their advanced age and health condition, state media said in the wake of published confessions from the two men.

Another U.S. national, Kenneth Bae, a Christian missionary who had been arrested in November 2012, was convicted and sentenced by North Korea's supreme court to 15 years hard labor last year.

Pyongyang has detained a number of U.S. citizens in the past, using them to extract visits by high-profile figures, including former U.S. President Bill Clinton who in 2009 helped secure the release of two U.S. journalists who had secretly entered the country by crossing into the country from China.

The journalists, Laura Ling and Korean-American Euna Lee, were released after being tried by a city court in Pyongyang and given a ten-year hard labor sentence.

But North Korea has twice canceled visits by Robert King, the U.S. special envoy for North Korean human rights issues, to discuss Bae's case.
UPDATE 5 (2014-6-8): Jonathan Cheng writes more information about Mr. Fowle in the Wall Street Journal:
Jeffrey Edward Fowle, the American citizen detained by North Korea, is a municipal road-maintenance man from southwestern Ohio with a globe-trotting past.

Mr. Fowle, who was arrested by North Korea after arriving for a tour on Apr. 29, is a 56-year-old resident of Miamisburg, Ohio, a city of about 20,000 residents on the outskirts of Dayton. He attends church in nearby West Carrollton, Ohio, and repairs streets for Moraine, Ohio, population 6,307.

But Mr. Fowle's small-town roots belied a keen interest for the wider world. Before venturing into North Korea, Mr. Fowle made regular trips to Russia with his wife and traveled to war-torn Sarajevo in early 1997, less than a year after the four-year siege of the Bosnian city was lifted.

…

Timothy Tepe, a Cincinnati lawyer who represents Mr. Fowle's family, said Mr. Fowle wasn't on a mission for Urbancrest Baptist Church in Lebanon, Ohio, where he attended church. Mr. Tepe didn't immediately reply to requests for further comment.

Joseph Shihady, a pastor at Bethel Baptist Church in West Carrollton, where Mr. Fowle attended services on Sundays and Wednesday evenings, said Mr. Fowle traveled to North Korea as a tourist.

"He's a fine fellow, and we're praying that he'll get home safely," Mr. Shihady said. "We know he's in danger, and we're concerned for him."

In Washington, the State Department said that it was aware of reports about a third U.S. citizen who had been detained in North Korea, but declined to offer more details.

Mr. Fowle and his Russian immigrant wife live with their three children and the wife's mother, according to a September 2010 interview with Mr. Fowle by the Dayton Daily News.

WHIO, a Dayton-based CBS affiliate, on Saturday cited a family friend as saying that Mr. Fowle's wife had tried to dissuade him from going to North Korea, calling it too dangerous.

During his eight-day trip to the former Yugoslavia in 1997, Mr. Fowle spent four days in downtown Sarajevo with a Muslim family whose apartment walls were scarred by shrapnel following a missile attack, according to an earlier interview Mr. Fowle gave to the Dayton Daily News.

Nearly two decades later, Mr. Fowle finds himself at the center of a diplomatic tangle. Rep. Michael Turner (R., Ohio), which represents Mr. Fowle's town, said in a statement that he was "deeply troubled" that Mr. Fowle had been held.

…
Late last month, North Korea sentenced a Christian missionary from South Korea, Kim Jung-wook, to a life of hard labor, following his October arrest on charges of working to overthrow the regime. Seoul had pleaded for his release.
UPDATE 4 (2014-6-6): WDNT in Ohio has some information on Mr. Fowle and a photo of him and his family.
The Christian Science Monitor has more.
UPDATE 3 (2014-6-6): Choe Sang-hun and Rick Gladstone report in the New York Times that  Mr Fowle is a "A municipal worker from Ohio on a tour of North Korea".
The Korean Central News Agency provided no further details about Mr. Fowle but local media in the Dayton, Ohio, area said that he was a 56-year-old municipal worker in the suburb of Moraine and had a wife and three children. The website of the Dayton Daily News said the Moraine city manager, David Hicks, had described him as a longtime employee. Telephone messages left on Mr. Fowle's home telephone answering machine and with Mr. Hicks's office were not returned.
UPDATE 2 (2014-6-6): The Guardian reports (via other sources) that Mr. Fowle was being detained for leaving a Bible in his hotel room.
Jonathan Cheng reports in the Wall Street Journal.
UPDATE 1 (2014-6-6): According to KCNA:
American Citizen Detained in DPRK

Pyongyang, June 6 (KCNA) — American citizen Jeffrey Edward Fowle entered the DPRK as a tourist on April 29 and acted in violation of the DPRK law, contrary to the purpose of tourism during his stay.

A relevant organ of the DPRK detained him and is investigating him.
ORIGINAL POST (2014-6-5): According to Reuters:
North Korea detained another U.S. citizen in mid-May, bringing the total to three currently being held in the country, Japan's Kyodo news agency said on Friday, quoting diplomatic sources.

The man was part of a tour group who was detained just before he was set to leave the country, according to the sources.

In April, the North said it had detained an American, Matthew Todd Miller, who had arranged a private tour of the country through a U.S. company. North Korea is also holding Kenneth Bae, a Korean American missionary who was arrested in 2012 and has been sentenced to 15 years of hard labor on charges of state subversion.