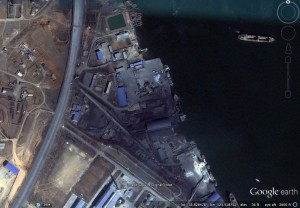 Pictured above (Google Earth): The coal-covered Taean Port on the Taedong River
Who knew that Rodong Sinmun was involved in the coal export business?
According to the Daily NK:
Gwangbokseongdae Co. [광복성대?], a hard currency-earning arm of the operator of the Party daily Rodong Sinmun, recently resumed coal exports through the West Sea port of Nampo, Daily NK has learned. Exports had been halted upon the orders of the Chosun Workers' Party in October 2013.

The Kim regime is believed to have resumed exports to open up additional flows of hard currency for accounts earmarked for regime maintenance. Coal is one of North Korea's biggest export industries, with almost all the coal produced in the country sent to China (though a percentage of it is coked and returned for use in North Korean power stations).

A source from South Pyongan Province reported the story to Daily NK on the 3rd, explaining that "Gwangboksongdae Co. has started exporting coal again; it was originally stopped by the Party last October."

The source then went on to add, "So as to match the timing of [incoming] vessels and increase export volumes, the company is leasing its trucks to people."

"It costs US$350 per day to lease the trucks. They travel from storage yards [owned by people who lease land from farms and use it for the storage and sale of coal] in mining areas of South Pyongan Province to Daean Port in Nampo. Vessels start coming in March, so leased trucks are again transporting coal for export."

Companies exporting coal to China must have an export trade license from the North Korean authorities. Then they can use planned exports to China as security against the cost of leasing the trucks. From the point of view of the company, subcontracting in this manner, a practice that began in the mid-2000s, makes more sense than employing drivers directly.

There are many conditions attached to truck rental from Gwangboksongdae Co., however. According to the source, not only must lessees prove that they have $3000 with which to purchase coal; they must also have ten years of trucking experience and, of course, good connections in the Central Party.

But it is worth it. "The original price of a ton of coal is roughly $12," he said. "This can then be sold at the storage yards in Nampo and Taean Port for $32, giving the driver a clear profit of $20 on each ton. If he carries an average load of 30t, he will earn $540. If we factor in the lease fee of $350 and cost of fuel, there is around $100 left per load."

"Normally, drivers make around three trips per week," he went on. "But truck repair costs are born by the lessee. If a vehicle is damaged, the lessee ends up with a significant burden as they can be held liable for compensation."

According to trade statistics compiled by the Korean International Trade Association (KITA) in January 2014, North Korea exported 16.5 million tons of anthracite to China in 2013. This total, which marked a year-on-year increase of 39.7%, brought in approximately US$ 1.373bn, a 15.5% increase over 2012.
Read the full story here:
Trucks for Rent as Coal Exports Soar
Daily NK
Seol Song Ah
2014-4-3