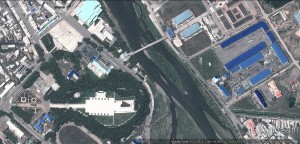 Pictured above (Google Earth): The Hyesan – Jilin Bridge
According to Radio Free Asia:
A bridge across the Yalu River connecting northeastern North Korea with China has reopened after more than four months of repairs and reinforcement work, reviving trade and tourism in the area, sources in North Korea said.

Traders eager to sell their goods lined up on both sides of the bridge between Hyesan city in North Korea's Ryanggang province and Changbai city in China's Jilin province as traffic resumed on Thursday.

The 500-foot (150-meter) bridge, initially built in 1936 by the Japanese and renovated in 1985, has been reinforced to accommodate trucks weighing up to 30 tons, double the earlier limit.

It had been closed since May, blocking trade and sending prices of consumer goods soaring at local markets in Hyesan, a source in Ryanggang province said.

Thursday's reopening of the bridge, one of at least three spanning the Yalu River, took place on the anniversary of the ruling North Korean Workers' Party without much fanfare, the source said, speaking on condition of anonymity.

"The Yalu River Friendship Bridge reopened officially at 10:00 a.m…. There was no special event or meeting for an opening ceremony," the source told RFA's Korean Service.

Another source in the province speaking on condition of anonymity said vehicles bound for China loaded with logs and minerals had lined up near the bridge early that morning in anticipation of a rumored reopening.

On the other side of the river in Changbai, trucks carrying Chinese food items and daily necessities had queued up to cross into North Korea, the source said.

The bridge is also a key gateway for Chinese tourists traveling to North Korea's famed Mount Baekdu, a popular sightseeing destination.

During the bridge's closure, local authorities in Ryanggang had lost valuable foreign exchange earnings because tours to the mountain had been limited and export of logs and minerals had stopped.

Sources said that although many locals were relieved that trade would be resumed with the bridge no longer closed, others were concerned about the possibility of a sudden outflow of exports of local resources and goods across to China.

A more popular bridge along the Yalu River lies between China's Dandong city and North Korea's Sinuiju city.

Annual trade between North Korea and China, its closest diplomatic and trade ally, is worth about U.S. $6 billion. China also supplies nearly all of North Korea's energy needs.
Read the full story here:
Bridge Across China-North Korea Border River Reopened
Radio Free Asia
2013-10-14