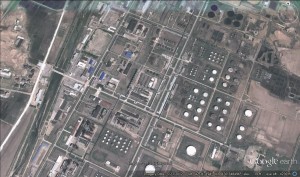 Pictured above (Google Earth): The Victory (Sungri) Refinery in Rason, North Korea.
UPDATE 2 (2016-3-25): NK News reports that HBOil refutes the claim in the Joong Ang Daily:
"HBOil JSC … hereby refutes the South Korean publication known as 'KOREA JOONGANG DAILY', for irresponsible reporting and dissemination of erroneous news on 23 March 2016; asserting that HBOil JSC has withdrawn from its joint venture in the Democratic People's Republic of Korea," the statement read.

HBOil also confirmed, "that it remains fully committed to its joint venture with Korea Oil Exploration Corporation ("KOEC") of the DPRK, and continues its tenacious efforts to progress the joint venture's ambition for exploration and development of hydrocarbon resources onshore North Korea."

HBOil entered into a joint venture with North Korea in 2013 and has attempted to make inroads into North Korea's undeveloped oil and gas sector.

The company has since invested in projects that could give it access to upstream oil and gas production and downstream refinery capacity in the coming years. However there has not been much reported movement on their North Korean project, and the outlook will not have been improved by a 70 percent drop in oil prices since last year.

While the statement affirmed HBOil's belief that North Korea represents an "exceptional business opportunity" it also stated that the company are reviewing the implications of the recently adopted UN Security Council resolution against the country.
UPDATE 1 (2016-3-23): The Joong Ang Daily reports that HBoil is pulling out of North Korea:
A Mongolian oil company recently decided to withdraw from North Korea, a South Korean government source said, amid growing pressure from the international community after North Korea recently conducted nuclear tests and long-range missile launches.

HBOil JSC, an oil trading and refinery company based in Ulaanbaatar, Mongolia, acquired 20 percent of the North Korean entity Sungri refinery in June 2013, valued at roughly $10 million. In May 2014, the company opened a joint venture in Pyongyang.

The ex-communist country established bilateral ties with the North in 1948, but after this recent decision, the already impoverished North Korea will be further isolated from the international community.

"Mongolia is sending a message to North Korea: don't fall down the wrong path," said Nam Sung-wook, professor at Korea University's Department of North Korean Studies.

North Korea formerly attracted foreign investment to resume operations of the Sungri refinery, which stopped running in 2009, in order to push for economic development. The deal with Mongolia, begun almost three years ago, was taken as evidence that North Korea wass seeking further investment partners-in addition to China.

However, the North Korean government continually delayed the inland oil development project, failing to provide reasonable explanations. Mongolia may therefore have concluded that there was no practical benefit to continuing the project.

Bilateral ties between the two countries recently turned bitter when Mongolian president Tsakhiagiin Elbegdorj said Mongolia could not endure the North's tyranny forever, a remark made during his speech at Kim Il-sung University in Pyongyang at the end of October 2013.

"No tyranny lasts forever. It is the desire of the people to live free, that is the eternal power," the president said in his speech. After his remarks, North Korean leader Kim Jong-un expressed disappointment and refused to hold meetings with the Mongolian president.
ORIGINAL POST (2013-6-13): Clarification:   "HBOil has 20% of a state-dominated joint venture called Korean Oil Exploration Corp. International, and a formal commitment with Sungri has yet to be made. Another option is to invest in a refinery on the west coast of the DPRK."
According to Bloomberg:
HBOil JSC, an oil trading and refining company based in Ulaanbaatar, Mongolia, said it acquired 20 percent of the state-run entity operating North Korea's Sungri refinery, according to an e-mailed statement yesterday. It intends to supply crude to Sungri, which won't be fully operational for up to a year, and export the refined products to Mongolia.

"Mongolia has had diplomatic relations with North Korea for many years," Ulziisaikhan Khudree, HBOil's chief executive officer, said in a June 12 interview in Ulaanbaatar. "There are certain risks, but other countries do business with North Korea so I am quite optimistic the project will be successful."

The investment comes as ex-communist Mongolia seeks to power its mining-led boom while offering sanctions-hit North Korea a bridge to economic reforms. Since Swiss-educated Kim Jong Un took over the leadership of the totalitarian regime in December 2011, Mongolia has pledged to help its Soviet-era ally implement an economic transition similar to its own of the 1990s.

…

Under the transaction, worth as much as $10 million, the Mongolian Stock Exchange-listed HBOil would swap shares for full ownership of Ninox Hydrocarbons (L) Berhad, a private Malaysian company that owns 20 percent of KOEC International Inc., and issue convertible notes to fund investment at Sungri.

The rest of KOEC International is held by North Korea's national oil company, Korea Oil Exploration Corp., which also has oil production and exploration rights in North Korea.

"This is a chance to take an equity holding in a foreign entity, and will allow us to import petroleum products, which could be lower than the current price," said HBOil's Khudree.

HBOil jumped by the daily limit of 15 percent to close at 253 tugrik (18 cents) on the Mongolian stock exchange today.

The deal will be the first purchase by a Mongolian-listed company of a foreign asset, according to Joseph Naemi, chief executive officer of the Ninox parent, Ninox Energy Ltd. The company is in compliance with international sanctions levied against North Korea, he said.

"If the sanctions change, and if they target the oil and gas industry, that would put us out of business, and we will have to comply," Naemi said. "That is a risk one takes."

Naemi said he had briefed his North Korean partners on the transaction and that "they are supportive." No one was available to speak about the deal at North Korea's embassy in Ulaanbaatar, which is in the middle of a renovation.

North Korea has three onshore oil basins with "proven working petroleum systems" and the country is conducting exploration for new fields, BDSec brokerage, Mongolia's largest and the underwriter of the bonds HBOil plans to offer, said in a note to investors yesterday.

The Sungri refinery, located in the Special Economic Zone of Rason City in North Korea's northeast, has a refining capacity of 2 million tons a year and is connected to the Russian railways system, HBOil said in its release.
Read the full story here:
Mongolia Taps North Korea Oil Potential to Ease Russian Grip
Bloomberg
Michael Kohn and Yuriy Humber
2013-6-18