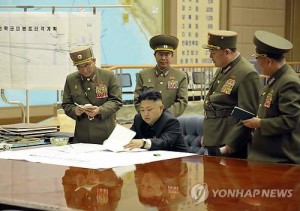 In the kerfuffle that followed James' NK News post about the North Korean targeting Austin, TX, Yonhap reports on KPA asset data that was also on display in the official KCNA photos:
Media coverage of an emergency military meeting convened by North Korean leader Kim Jong-un on Friday shows an overview of its major weapons system, giving a rare glimpse of the isolated communist country's armed forces.

…

The list shows that North Korea has 40 submarines, 13 landing ships, six minesweepers, 27 support vessels and 1,852 aircrafts [sic], with some of the numbers covered by senior officials.

Military officials in Seoul said the figure is similar to the defense ministry's estimation of North Korea's weapons system, though there are some differences.

According to the 2012 defense white paper, the North is estimated to have 70 submarines and midget subs, 260 landing ships, 30 mine sweepers, 30 support vessels, 820 fighter jets, 30 surveillance aircrafts, 330 parachute drop aircrafts and 170 training jets.

While there are some disparities between the list and Seoul's assessment, the number of midget subs seems to have been excluded from the list disclosed in the photo, military officials said.

As Pyongyang has never disclosed its weapon system in the past, outside watchers speculate that the North Korean military has mistakenly disclosed the confidential information.

"It may have been leaked accidently," said a senior military official, who asked to remain anonymous. "It could have been unveiled as the North hurriedly reported the emergency meeting."

Others said the photo may be aimed at stoking tensions by showing that Kim is mulling ways to strike the U.S., considering the operational map that has several lines between the Korean Peninsula and the U.S. Its details were not recognizable in the photo.
The Washington Post has offered some additional data in a follow up article on 4-25-2013:
South Korea says North Korea has more than 13,000 artillery guns, and its long-range batteries are capable of hitting the capital Seoul, a city of more than 10 million people just 30 miles (50 kilometers) from the border.

"North Korea's greatest advantage is that its artillery could initially deliver a heavy bombardment on the South Korean capital," Mark Fitzpatrick, a former U.S. State Department official now with the International Institute for Strategic Studies, said in an email.

South Korea's defense minister estimates that 70 percent of North Korean artillery batteries along the border could be "neutralized" in five days if war broke out. But Sohn Yong-woo, a professor at the Graduate School of National Defense Strategy of Hannam University in South Korea, said that would be too late to prevent millions of civilian casualties and avert a disastrous blow to Asia's fourth-largest economy.

…

Seoul estimates North Korea has about 200,000 special forces, and Pyongyang has used them before.

In 1968, 31 North Korean commandos stormed Seoul's presidential Blue House in a failed assassination attempt against then-President Park Chung-hee. That same year, more than 120 North Korean commandos sneaked into eastern South Korea and killed some 20 South Korean civilians, soldiers and police officers.

In 1996, 26 North Korean agents infiltrated South Korea's northeastern mountains after their submarine broke down, sparking a manhunt that left all but two of them dead, along with 13 South Korean soldiers and civilians.

…

North Korea has 70 submarines while South Korea has 10, according to Seoul's Defense Ministry. The most menacing threats from the North's navy are small submarines that would deposit commando raiders along the South Korean coast, said John Pike, head of the Globalsecurity.org think tank.

North Korea also has 820 warplanes, more than South Korea, though Seoul is backed up by American air power. The South says most of the North's aircraft are obsolete. North Korea also suffers chronic fuel shortages that have forced its air force to cut sorties, experts say.

"North Korea would not be able to prosecute a full-fledged war for very long," Fitzpatrick said. "Its biggest problem is that North Korea would quickly lose control of the skies because of the vastly superior (South Korean) and U.S. air forces. The reported number of North Korean aircraft is meaningless, because many of them cannot fly, and North Korean pilots have little training in the air."

…

Pyongyang is believed to have enough weaponized plutonium for four to eight nuclear bombs, according to Siegfried Hecker, a nuclear expert with Stanford University's Center for International Security and Cooperation.

But he doubts Pyongyang has mastered the technology to tip a missile with a nuclear warhead. "I don't believe North Korea has the capacity to attack the United States with nuclear weapons mounted on missiles and won't for many years," he said on the website of Stanford University's Freeman Spogli Institute for International Studies this month.

…

orth Korea denies it runs any chemical and biological weapons programs. South Korea claims that Pyongyang has up to 5,000 tons of chemical weapons.

The IISS says that although the figures are "highly speculative," the North probably does possess chemical and biological arms programs.

"Whatever the actual status of North Korea's chemical and biological capabilities, the perception that it has, or likely has, chemical and biological weapons contributes to Pyongyang's interest in creating uncertainties in Washington, Seoul and Tokyo and raises the stakes to deter or intimidate potential enemies," it said on its website. North Korea is not a signatory to the Chemical Weapons Convention, but it has acceded to the non-binding Biological and Toxin Weapons Convention.
Read the full stories here:
N. Korea's photo offers glimpse of major weapons
Yonhap
Kim Eun-jung
2013-3-29
A look at the strengths and weaknesses of North Korea's military
Washington Post (Associated Press)
2013-4-25