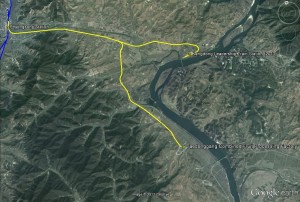 Pictured above (Google Earth): The new Taedonggang Fruit Processing Factory Railway Line (in yellow). I previously blogged about this railway line here.
On August 31, KCNA announced "Railway line of Taedonggang Combined Fruit Processing Factory goes operational" and that the opening ceremony was attended by staff from the Ministry of People's Security (MPS) and Korean People's Internal Security Forces (KPISF). The KPISF is part of the MPS.
The presence of so many security personnel might seem odd for the opening of a railway line that is intended to provide fruit products to North Korean consumers. However, because this very same railway line connects the Kim family compound in Kangdong with the city of Phyongsong by rail (See above map), the heavy security presence seems understandable.  This railway line will be heavily watched.
The interesting (and speculative) takeaway is that it might be the case that security for the Kim family is now under the portfolio of the KPISF and not the State Security Department (SSD, Ministry of State Security, anjon-bowibu), KPA, or Military Security Command.
To learn more about the North Korean security services, check out: Coercion, Control, Surveillance, and Punishment: An Examination of the North Korean Police State by Ken E. Gause.
Below is the complete report featured in KCNA:
Railway Line of Taedonggang Combined Fruit Processing Factory Goes Operational

Pyongyang, August 31 (KCNA) — A new railway line branching into the Taedonggang Combined Fruit Processing Factory went operational with due ceremony on Friday.

The operation of the railway line helps satisfactorily carry fruits and processed goods produced by the Taedonggang Combined Fruit Farm and factories in this area and materials necessary for their management and operation.

Present at the ceremony were officials of the Ministry of People's Security, servicepersons of the Korean People's Internal Security Forces, officials concerned, builders and employees of the factory.

At the end of the ceremony the first train carrying fruits to be supplied to Pyongyang citizens left the factory.