UPDATE (2012-9-19): The South Korean government is offering compensation to companies affected affected by the South Korean government's policy decisions. According to the JoongAng Daily:
The Ministry of Unification announced a plan yesterday to pay cash to local firms financially distressed by the suspension of inter-Korean trade and economic cooperation.

The unprecedented aid totaling 7.5 billion won ($6.7 million) will go to South Korean businessmen who have financially suffered from Seoul's imposition of economic sanctions on North Korea on May 24, 2010 in the wake of the North's sinking of the South's naval vessel Cheonan earlier that year, said Kim Hyung-suk, a unification ministry spokesman. The 7.5 billion won comes from the Inter-Korean Cooperation Fund.

The offer of cash aid to companies doing business with North Korea is a first. Previously, authorities provided loans worth a total of 56.9 billion won to 221 companies on two occasions in 2010 and this year.

The decision comes as all economic cooperation between Seoul and Pyongyang has been put on hold except at the Kaesong Industrial Complex, since the implementation of measure announced by the Lee Myung-bak administration in May 2010.

The sanctions on trade with North Korea in the wake of the sinking of Cheonan, which killed 46 naval officers in March 2010, stopped all business partnerships.

"As it is mainly small- and medium-sized companies that are in financial difficulties due to the halted economic activities in the North, we expect the funds to help them recover," said Yoon Min-ho, director of the economic cooperation division at the ministry.

To be eligible, companies must have investment records in the North during the two years before May 2010 or a history of trading with Pyongyang one year before May 2010.

The ministry will provide between 5 million won and 20 million won to each company that invested in the North following due diligence. Business groups that invested more than $3 million in the North will be given the maximum amount of 20 million won.

For traders with volumes of trade of over $1 million, aid of 15 million won will be given.

Companies that invested in the Mount Kumgang tourism business, which was curtailed after a North Korean guard shot a South Korean tourist in 2008, can also apply for assistance.
Article citation: Kang Jin-kyu, "Cash aid for ailing investors in North", JoongAng Daily, 2012-9-19
ORIGINAL POST (2012-6-1): Along with the anniversary of the "May 24 Measures"  we have seen many reports on the status of the DPRK – ROK trade relationship. I have previously blogged about the reports by the Korea Development Institute (KDI), Hyundai Research Institute and  Korea International Trade Association.
Now we have a new report by the Korea Trade-Investment Promotion Corporation (KOTRA).
Because I am unable to locate the original report (in Korean), I have posted commentary on the report below.
According to the Hankyoreh:
Seoul's attempts to handle North Korean provocation by isolating it economically appear to have been ineffective. A report on 2011 North Korean trade trends released May 30 by the Korea Trade Promotion Corporation (KOTRA) had the country's exports up by 84.2% and its imports up by 32.6% from the year before. The numbers did not include inter-Korean trade figures.

North Korea had trade of US$6.3 billion for 2011, comprised of US$2.8 in exports and US$3.5 in imports. This marked a 51.3% increase from the year before.

Its biggest export was coal, at US$1.17 billion, followed by minerals (US$400 million) and textiles (US$390 million). The largest import was petroleum and other fuels (US$810 million), followed by machinery (US$300 million) and electronics (US$270 million).

The country's largest trading partner was China, with US$2.46 billion in exports and US$3.17 billion in imports last year, for total trade of US$5.63 billion, or 89.1% of all North Korean trade. In 2004, only 48.5% of North Korea's trade was with China. The next largest trading partners were Russia, Germany, India, and Bangladesh, in that order.

Meanwhile, trade with South Korea slid amid Seoul's efforts to isolate Pyongyang. A report on inter-Korean trade by the Unification Minister showed a total of US$1.7 billion last year, down nearly US$200 million from the US$1.9 recorded in 2010.

The numbers show that while inter-Korean economic cooperation is being stymied by the South Korean government's policies, North Korea has been making up the difference and then some by trading with other countries.

University of North Korean Studies professor Yang Mu-jin said, "Not only are the government's isolation policies completely ineffective, but they've increased [North Korea's] reliance on China. These policies have been proven ineffective and should be abandoned immediately."
Here are some additional details from the Financial Times:
Trade with China increased 62.4 per cent from a year earlier to $5.63bn.

…

"The increased trade does not mean a better life for North Koreans because the hard currency earned from mineral exports to China was mostly spent on the large-scale events to promote the regime," said Suh Jae-pyong, a North Korean defector who works for the Committee for the Democratisation of North Korea, a civic group.
Stephan Haggard comments on the KOTRA report on his blog: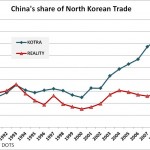 So how important is China to North Korea? The numbers cited are often wildly exaggerated in the policy debates, largely because of the difficulty of getting accurate information on the DPRK's overall trade. The government of North Korea regards economic statistics as state secrets; as a result, all trade data has to be reconstructed by examining the "mirror statistics" of the country's trade partners: by adding up what other countries say that they import from the country.

But even such an apparently simple exercise is fraught. First, a number of countires—including Iran—also do not provide reliable trade statistics. Second, nearly every year the statistical agency of some country around the world gets North and South Korea confused and reports an amazing spike in trade with North Korea, consisting of imports of North Korean cell phones and automobiles. Not!

The most widely cited source on North Korean trade is a South Korean public agency, KOTRA, which carefully screens the mirror data for such obvious anomalies. But KOTRA adopts a number of other conventions that distort the overall trade picture. In calculating North Korean trade it excludes the country's trade with South Korea (on the constitutional grounds that inter-Korean trade is within the nation) and oddly ignores trade with many Middle Eastern countries that do in fact report trade with North Korea to the UN statistical agencies. We have never figured out why they do this, and it may have reasonable motivations, such as beliefs about the reliability of the data. But simply throwing the data out makes now sense.

The upshot is that the prominence of the trade partners that KOTRA does count is greatly exaggerated. The New York Times and Washington Post, for example, have both reported that China accounts for 80 percent of North Korea's trade; even with smuggling that is wildly exaggerated given the ongoing important of Kaesong for North Korea's balance of payments.

The actual figure, once North-South and other missing entries are accounted for, is roughly half as much by our estimates (see the figure above). But over 40% reliance on China is not trivial. Moreover, the prevalence of private firms in this trade—as we have reported in two recent working papers (here and here)—is high. Moreover, state-owned enterprises are themselves profit-driven. Even if Chinese authorities were aggressive in enforcing sanctions—which they do not appear to be—the opportunities for mischief are high.
Scott Snyder comments on the numbers here.
Read the full stories here:
North Korea keeps doing business in spite of isolation
Hankyoreh
Lee Jeong-hun
2012-1-1
N Korea trade soars on Chinese demand
Financial Times
Song Jung-a
2012-1-1
Sanctions Busing
Stephan Haggard
2012-6-12