By Michael Rank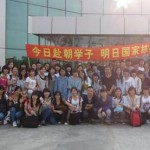 The Chinese embassy in Pyongyang has posted photos of the latest batch of Chinese students who have come to study in North Korea. There are sixty students in total, but the report gives no details of what they are studying or at which universities.
They are casually and colourfully dressed, as if on an American campus in fact, for the group photos which were taken at Sunan Airport and at the Chinese embassy when they attended a briefing by the consular section on "current conditions in Korea, consular protection and assistance and life as a student in Korea".
The students pledged to "study hard, take advantage of good conditions for [learning] the language, make the most of their studies abroad to obtain the best results and to contribute their utmost for Sino-Korean friendship and cooperation," according to a caption.
The students arrived in Pyongyang on May 4 and attended the embassy reception on May 6. The website says these students are state-sponsored, implying that there may also be Chinese students in North Korea who pay their own way or are sent by local authorities.
Little is known about Chinese students in North Korea, but earlier this year Sino-NK posted a translation of a fascinating article with some surprisingly frank quotes from an earlier group of Chinese students in the DPRK.
At least one former Chinese student in Pyongyang has risen high in the Communist hierarchy. Zhang Dejiang, 65, a vice premier who oversees industrial and energy policy, in March replaced the disgraced Bo Xilai as Party chief in the southwestern city of Chongqing after the biggest scandal in China in living memory involving the death of a British businessman and alleged large-scale corruption.
From 1978 to 1980 Zhang studied economics at Kim Il Sung University, where he was secretary of the Communist Party branch committee of Chinese students studying there.