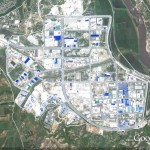 According to Yonahp:
Top executives of more than 120 South Korean companies operating in the Kaesong Industrial Complex plan to meet in the North's border city this week, in the first such meeting to discuss pending inter-Korean business issues, an organizer said Tuesday.

The CEO conference is scheduled to bring together the heads or local representatives of 123 South Korean firms and other related officials on Wednesday, said Bae Won-joo, one of the organizers of the meeting.

A Unification Ministry official said the meeting was designed to discuss issues related to the operation of the industrial complex. He did not give further details and asked not to identified, citing office policy.
Previous posts on the Kaesong Industrial Zone can be found here.
Read the full story here:
S. Korean businessmen to meet in N. Korea's industrial park
Yonhap
2011-12-6