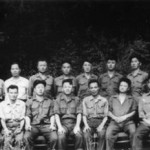 Pictured above: North Korean pilots in North Vietnam (1968).
According to Yonhap:
North Korea dispatched dozens of pilots to the Vietnam War decades ago, with its communist ally short of specialists to operate MiG-17 and MiG-21 fighter jets in battles against the United States, according to a recently released dossier.

"On 21 September 1966 an official North Korean request to be allowed to send a North Korean Air Force regiment to help defend North Vietnam against U.S air attacks was officially reviewed and approved by the Vietnamese Communist Party's Central Military Party Committee, chaired by General Vo Nguyen Giap," read the documents taken from an official People's Army of Vietnam (PAVN) historical publication.

North Korea's Chief of the General Staff, Choi Kwang, and his Northern Vietnamese counterpart, Van Tien Dung, held talks three days later to detail Pyongyang's role in the war.

The Woodrow Wilson International Center for Scholars, a think tank in Washington, studied the dossier and made it public on its Web site as part of North Korea International Documentation Project.

In 2000, 25 years after the end of the Vietnam War, North Korea and Vietnam admitted for the first time that North Korea had provided military support in combat against U.S. aircraft.

North Vietnam sought North Korean pilots' help in training and combat apparently to take advantage of their experience in shooting down U.S. fighter jets during the 1950-53 Korean War.

The newly unveiled dossier show details of North Korea's military support.

"In late October or during November 1966 North Korea would send Vietnam enough specialists to man a Vietnamese MiG-17 company (a company consisted of ten aircraft)," the two sides agreed in the Sept. 21 1966 talks, adding North Korea would send more specialists to man a second Vietnamese MiG-17 company in later 1966 or early 1967.

"During 1967, after North Korea finished preparing specialists and after Vietnam was able to prepare sufficient aircraft, North Korea would send to Vietnam sufficient specialists to man one Vietnamese MiG-21 company," they also agreed.
You learn more and download the entire report (PDF) at the Wilson Center's North Korea International Documentation Project (NKIDP).