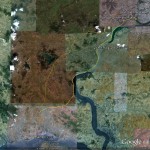 Pictured above (Google Earth): The Pyongyang – Nampho road (in yellow) and the Youth Hero Motorway (in orange).
UPDATE 1 (2011-11-29): KCNA has published pictures of the road construction, so it must be continuing apace!
ORIGINAL POST (2011-8-25): According to Yonhap (North Korea Newsletter No. 172–August 25, 2011):
Premier Choe Yong-rim Visits Pyongyang-Nampho Roadwork Sites

SEOUL (Yonhap) — North Korean Premier Choe Yong-rim made spot inspections on Pyongyang-Nampho roadwork sites and discussed with workers ways to provide raw materials for the project, the North's media said on Aug. 22.

"After going round various places of the project, he held a consultative meeting of officials concerned on the spot," the KCNA said.

The KCNA also said that "discussed at the meeting were the measures for finishing the project on the highest level in a brief span of time and substantially supplying raw materials for the project at relevant fields."

Earlier, the Rodong Sinmun, the official organ of the North's ruling Workers' Party, on Aug. 18 said repair work of the Pyongyang-Nampho old road is now under way at a faster pace.

Premier Choe has been making brisk inspections on industrial facilities and other economic sectors so far this year.
It is worth pointing out for the new readers that the Pyongyang – Nampho road is not the same thing as the Youth Hero Motorway, which was opened in 2000. Since the motorway opened, however, it appears the original Pyongyang – Nampho road has fallen into some disrepair–requiring repairs.
The original Pyongyang – Nampho road is a bit more "industrial" and "practical" than the Youth Hero Motorway.  The latter extends from Kwangbok Street in Mangyongday-guyok to northern Nampho via the countryside.  It is five lanes in both directions and runs in a kinked straight line.  Because it falls outside any densely populated areas (outside its beginning and end), however,  it is largely empty–serving only through traffic.
The original road, however, stretches from Mangyongdae to Nampho along the Taedong River and through the industrial areas of northern Nampho. It connects populated areas of the Chollima Steel Complex, Taedonggang Tile Factory, Taean Heavy Machine Plant, and Taean Friendship Glass Factory before connecting with the Youth Motor Highway just north of the Pyonghwa Motors Factory.