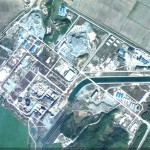 Pictured above (Google Earth): The KEDO light water reactor construction site in Sinpho County, South Hamgyong Province.  See in Google Maps here.
 According to Yonhap:
An international consortium once tasked with building two power-generating nuclear reactors in North Korea will soon demand that the communist country provide US$1.89 billion in compensation for the project's failure, a Seoul official said Monday.

The demand comes after North Korea filed its own compensation claim worth some $5.8 billion in September, saying it suffered heavy financial losses and other troubles from the failed project.

In a 1994 deal linked to North Korea's promise to denuclearize, the Korean Peninsula Energy Development Organization (KEDO), which includes South Korea, Japan and the United States, agreed to build two 1,000-megawatt light-water reactors in the communist country within several years.

After years of delays due to poor funding and other problems, the project fell through in 2006 after the U.S. caught North Korea pushing a second nuclear weapons program based on enriched uranium in addition to its widely known plutonium-based one.

The $4.2 billion project was about 35 percent complete when the KEDO called it off.

"Ever since the project fell through in 2006, the KEDO has sent a request to North Korea each year, demanding compensation for its breach of the agreement," the government official said, requesting anonymity. "North Korea gave no response, and its sudden claim for compensation is completely unacceptable. The KEDO plans to send an official reply in the coming days."

The latest development comes as diplomatic efforts are under way to revive the stalled six-party talks on ending North Korea's nuclear weapons programs. Pyongyang is pushing for an unconditional reopening of the multilateral negotiations it walked away from in April 2009, while Seoul and Washington insist that the communist country first demonstrate its sincerity toward denuclearization through such pre-steps as a monitored shutdown of its uranium enrichment program.

The forum, which offers economic and political aid to North Korea in exchange for its denuclearization, also involves Japan, China and Russia.
The Korea Times also reported on this story.
Read the full story here:
Power consortium to demand $1.89 bln from N. Korea over failed energy project
Yonhap
2011-11-14