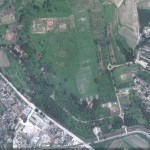 Pictured above (Google Earth): Manwoldae Palace in Kaesong, DPRK. See in Google Maps here.
According to Yonhap:
South Korea's Unification Ministry said Sunday it has allowed a group of historians to visit North Korea this week for the resumption of a long-stalled joint project to excavate an ancient royal palace site.

The approval is another sign of lessening tensions on the divided Korean Peninsula, as Seoul is easing restrictions on civilian contact with Pyongyang following a year of animosity caused by the North's deadly military attacks on the South.

On Monday, 14 South Korean historians will travel to the North's border city of Kaesong, the site of Manwoldae, the royal palace of the Goryeo Dynasty that ruled the Korean Peninsula from 918 to 1392.

During their 10-day stay in Kaesong, the South Korean experts will conduct a safety survey on the site with their North Korean counterparts, a ministry official said.

"Based on the results of the safety survey, the joint excavation work will begin on Nov. 24 for one month," the official said on the condition of anonymity.

The two Koreas launched the excavation project in 2007, but South Korea halted it last year as part of its sanctions against Pyongyang for the March sinking of a South Korean warship blamed on the North.

Seoul's new Unification Minister Yu Woo-ik, who took office in September, has said he would consider "flexibility" in dealing with North Korea. The ministry is in charge of North Korea policy.

Kaesong served as the capital for most of Goryeo's reign. Now it is home to an industrial complex run by both Koreas.
The Choson Ilbo also covered this story.
Read the full story here:
S. Korea OKs historians' visit to N. Korea
Yonhap
2011-11-13