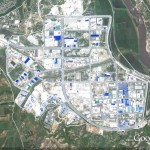 Pictured above (Google Earth): Kaesong Industrial Zone (Sept. 2009)
According to Reuters:
South Korea said on Tuesday it will allow 120 of its firms to restart building a joint industrial park with North Korea, a fresh sign of tensions between the rival countries easing.

Construction of five factories can resume, and work to build seven new ones can go ahead, South Korea's Unification Ministry said, 17 months after stopping activity in protest at what the South said was an attack by the North on one of its ships.

The South Korean firms employ about 46,000 North Korean workers at the Kaesong industrial park to make clothes, utensils and watches, taking advantage of cheaper labour and property than is available in the South.
According to the Choson Ilbo:
[The Ministry of Unification] will also build a fire station and hospital at the complex, repair a highway linking the city of Kaesong with the industrial complex, and add 45 buses to shuttle North Korean workers to and from the facility.
Previous posts on the Kaesong Zone can be found here.
Read the full story here:
S.Korea allows work at factories in North to restart
Reuters
2011-10-11