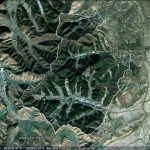 Pictured above (Google Earth): 1.18 Factory (January 18 Factory), which I am told manufactures tanks
According to Yonhap:
According to the Joint Chiefs of Staff (JCS), North Korea added about 300 tanks and 1,200 artillery guns over the past decade. The report comparing the armed forces of the two Koreas was submitted to the National Assembly ahead of the annual parliamentary inspection.

The report claimed that over the same period, the number of North Korean troops went up from 1.17 million to 1.19 million. The JCS noted that financial difficulties haven't prevented the North from bolstering its military.

On the other hand, North Korea slashed the number of its vessels from about 900 to 740, and its submarines from about 90 to 70. There were 870 fighter jets in the North in 2000, but 820 last year.
You can read the full article here.