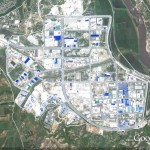 Pictured above (Google Earth): Kaesong Industrial Zone (Sept. 2009)
According to Yonhap:
With Seoul's plan to build a hospital within the inter-Korean industrial park in the North stalled, more than 220 South Korean workers have had to be rushed to hospitals in the South for emergency treatment over the past five years, the Unification Ministry said Monday.

As many as 227 South Korean workers who were injured or fell ill while working in the joint complex in the North's border town of Kaesong had to be transferred across the border to general hospitals in South Korean border cities between 2007 and June this year, according to the ministry.

Though a small clinic manned by two doctors and three nurses has been in operation in the Kaesong complex since 2005, it is only capable of administering simple first aid, it added.

To cope with steady demand for emergency medical services, Seoul had planned to set up a hospital with 10 beds and a dozen medical staff by the end of last year, and earmarked 326.8 billion won (US$301.7 million) in 2010 and 330 billion won in 2011 to fund the project.

But with the souring of inter-Korean relations over Pyongyang's two deadly attacks on South Korea last year, Seoul has yet to even take the first steps toward building such facilities, according to the ministry.

"Our plan for a better medical environment for the Kaesong workers will be pushed back in consideration of overall inter-Korean relations and how things will unfold in the industrial park," a ministry official said.

Around 500 South Koreans, together with more than 46,000 North Koreans, currently work at some 120 South Korean companies in the Kaesong joint industrial park, which has been in operation since 2004.
Read the full story here:
Inter-Korean hostility inconveniences Kaesong complex patients
Yonhap
Oh Seok-min
2011-8-22