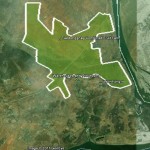 Pictured Above (Google Earth ): The initial phase of the Taedonggang Fruit Farm (대동강과일종합가공공장) in Samsok-guyok, Pyongyang.  See in Google Maps here.
KCNA recently published the following article on the fruit farm (2011-8-12):
The Taedonggang Combined Fruit Farm in Pyongyang attracts admiration from foreign visitors.

After visiting the farm, Martin Lotscher, chairman of the Switzerland-Korea Committee, said the farm is associated with benevolent politics pursued by leader Kim Jong Il and that such an amazing farm can never be found in other countries.

Anders Karlsson, chairman of the Communist Party of Sweden, said the farm offers a glimpse of Kim Jong Il's strenuous effort for providing the people with a happy life, as well as advantages of the socialist economy.

It is incredible that this large and wonderful fruit farm was built in only three years.

Mamoru Kitahara, chairman of the Fukuoka Prefectural Association for Japan-DPRK Friendship, said he deemed it a great honor to visit the fruit farm at a time when the Korean people were striving hard to build a thriving nation.

He congratulated the Korean people on the tremendous achievements they made under the leadership of Kim Jong Il.
The North Korean media has reported on this farm dozens of times, but it has never mentioned that the apple trees in the Taedonggang Fruit Farm were supplied by a European company.  This same firm may have also supplied apple trees to similar new fruit farms in the DPRK (Kosan and Toksong fruit farms), though I am unsure of their direct involvement beyond the Taedonggang fruit farm.
Some other interesting gossip about the area:
1. The farm is probably the best-defended in the world.  It is surrounded on all sides by dozens of KPA units, HARTs, and anti-aircraft positions.  Looking at the level-1 roads in Pyongyang, it is also likely that Kim Jong-il drives through the farm every time he commutes from downtown Pyongyang to his Kangdong residence.
2. The farm is located just north of Wonhung-ri (원흥리).  There are some villas hidden back in the woods (to the south of the farm) and I believe that Shin Sang-ok and  Choi Eun-hee spent some time here.  If a reader in South Korea could get Ms. Choi to confirm, I would appreciate it!