Koryo Link to become iPad friendly? In a recent KEI email update, Abraham Kim writes the following:
Finally, discussions with Koryo Link representatives revealed that 3G internet service via Apple iPad will be available this fall in Pyongyang via a special SIM card developed by Koryo Link. When asked whether the North Korean regime would be concerned about foreigners traveling around North Korea with internet service on their iPads, the representatives suggested that the government actually encouraged these latest technology developments.
___________
London to have its own Ryugyong? Koryo Tours makes the connection: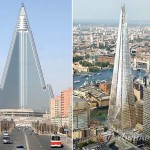 Koryo Tours has done a great job pushing the frontiers of the possible when it comes to the DPRK (they do a lot more than tourism).  Check out their web page.
Strangely, South Korea seems to have recently blocked the Koryo Tours web page.  This seems silly to me.  Censorship by a modern, liberal democracy is so 1960s.  Government censorship demonstrates weakness, not strength.
___________
Lankov on Rodong Sinmun: Andrei Lankov has written what is truly a funny and informative article about Rodong Sinmun (로동신문).  As someone who reads and watches too much DPRK propaganda, I was laughing the whole way through. Read the article here.
___________
Atlantic "Inside North Korea" photo series: About 20 people sent me the recent North Korea photo series in the Atlantic (thank you to all), so even though everyone has probably already seen it, here it is.
___________
More DPRK sand art! See it here.
___________
KFA posts two North Korean books for download: The Korean Friendship Association (KFA), a pro-DPRK organization based in Spain, has posted two North Korean books to their web page.  Both were helpful for my DPRK mapping project, so I thought I would share:
Book 1: Panorama of Korea (PDF)
Book 2: Panmunjom (PDF)
___________
DPRK publishes in 'Comic Sans' font…unaware of US imperialist connotations.  Here is a sample from a flyer purchased that the Fatherland Liberation War Museum: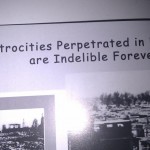 Learn about how annoying Comic Sans is here.  Hat tip to a reader with a good eye.