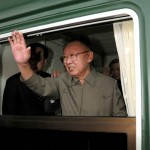 According to Yonhap:
North Korean leader Kim Jong-il has focused his inspection tours on economic facilities in the first six months of the year, an official said Wednesday, indicating that he wants to improve his country's faltering economy ahead of next year's landmark centennial anniversary of his late father's birth.

Kim made 63 public appearances during January and June, the largest number ever compared to the same period in previous years.

On 28 of the outings, the North Korean leader inspected economic facilities, Unification Ministry spokeswoman Lee Jong-joo told reporters.

Kim "has been increasing activities on economic areas since 2008," she said.

The North has vowed to improve light industries and agriculture as part of its stated campaign to build a prosperous and powerful nation next year, the centennial of the birth of the country's late founder, Kim Il-sung, the father of current leader Kim.

The move comes amid doubt about whether the North can make any economic breakthrough by next year.

North Korea has built some 500 houses in its capital of Pyongyang, far short of its goal of building 100,000 houses by next year, according to the National Intelligence Service, Seoul's spy agency.

…

During the first half of this year the North Korean leader inspected just one military unit and made 13 other military-related public appearances, including art performances, Lee said.

Meanwhile, Kim's son and heir apparent, Kim Jong-un, accompanied his father on 35 inspection trips, more than 80 percent of which were related to the military.
This year I have actually been keeping a spreadsheet of KJI's guidance trips.  I have a list of 80 public appearances by Kim Jong-il and 47 could be considered economic.  It is kind of hard to determine since many facilities are actually dual-use and provide goods for both the civilian and military economies.  Also, many "cultural" activities in which Kim Jong-il partakes are actually military-related since he attends them with KPA leaders.  Anyway, I have provided the full list of KJI's public appearances and links to the relevant KCNA stories in this Excel spreadsheet.  You can do your own calculations.