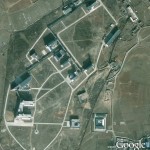 Pictured above (Google Earth): Pyongyang University of Science and Technology (PUST) in  December 2009
Martyn Williams offers us an update on the University:
The Pyongyang University of Science and Technology enrolled an additional 100 students at the start of the current academic semester, according to a foundation that supports the school.

The first classes at PUST began in October 2010 with 160 students enrolled, said reports at the time. The latest intake will take the student body to 260 members, assuming none of the initial students has dropped out.
You can read Martyn's full blog post here.
If you are interested in doing some volunteer work for PUST, here is their foundation's web page. Here is the official PUST web page.
Previous PUST posts can be found here.