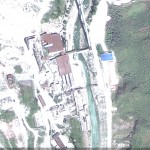 Pictured above on Google Earth: Ryongyang Mine Ore Dressing Plant (Pre-renovation)
According to the Hankyoreh:
"We invested a lot of money, and now we cannot even find out the present status."

Korea Resources Corporation (KORES) President Kim Shin-jong let out a deep sigh as he explained about the development status of the Hwangnam graphite mines in North Korea at a forum held by the corporation on Apr. 15. The event was organized amid a sense of profound concern, with a number of North Korean mineral resources development efforts running aground amid worsening inter-Korean relations.

According to accounts Sunday from officials with the Ministry of Unification and KORES, South Korea is currently involved in a total of ten North Korean coal mine development efforts. Investment for seven of these comes from the government, including the ministry and KORES, while the other three involve private sector investments. None of them has followed their original schedule since the Lee Myung-bak administration came into office.

The most representative case is that of the Hwangnam graphite mines. This was the first North Korean resource development effort undertaken as an inter-Korean economic cooperation venture, and progress was quick enough that the graphite produced there was being imported into the South right up until the Lee administration came into office. Now, the situation has changed completely.

A company official conveyed the situation by saying, "Since 2008, the Hwangnam Coal Mine has been forgotten completely."

The situation is the same for the Komdok, Ryongyang, and Taehung coal mines in the area of Tanchon, South Hamgyong Province, an effort spearhead directly by the Unification Ministry.

An official with the ministry said, "We had already finished the third feasibility examination by February 2008, but since then there has been no further progress as inter-Korean relations have worsened."

The Ryongyang mine contains large deposits of the rare metal magnesite, a material South Korea does not produce.

Exploration has also been effectively halted at the Ayang mine in Sinwon County, South Hwanghae Province, where KORES completed an on-site investigation following the signing of a September 2007 memorandum of understanding on mineral development with North Korea, and the Pungchon mine in Yonan County, South Hwanghae Province, where the first inter-Korean joint drilling effort was undertaken in October 2008.

The situation has been particularly severe for the privately invested projects.

An official with one company engaged in a fertilizer effort said, "We carried out three rounds of working-level discussions in North Korea and China regarding the mining of apatite, but all of them have been suspended since the current administration took office."

"If these projects had just gone ahead properly, we would not have had to buy apatite at high prices from faraway places like Nauru," the official lamented.

Apatite, one of the key ingredients in fertilizer, is one of the mineral resources for which South Korea depends entirely on imports.

With South Korea's development projects in North Korea at a standstill, China's have taken flight. According to KORES figures, Chinese exports of North Korean military, which stood at the $300 million level in 2005, showed a sharp rate of annual increase to reach more than $900 million in 2010. In the space of five years, the amount of North Korean minerals purchased by China rose more than threefold. Industry observers are calling the situation "hoarding" of North Korean minerals by China. Government authorities are known to have determined that even strategic minerals listed as forbidden for overseas export, including uranium, have been going into China since late last year.

The problem is that the situation is becoming more severe as time passes. Because North Korea's mineral transportation infrastructure of highways and ports is still deficient, the focus has been on developing minerals in areas near the North Korean-Chinese border, but there is a strong chance that China will extend its reach further into the country going ahead.

"China wants to seize North Korea's mineral resource industry through expanded infrastructure cooperation with North Korea," said Jeong U-jin, head of the natural resource strategy office at the Energy Development Institute.

Many observers are saying that thawing inter-Korean relations is an urgent priority if South Korea is to take full advantage of the value of North Korean mineral resources. Noting that the potential value of North Korean mineral resources is as much as 7 quadrillion won, a KORES official said, "Suffice it to say that as improvements in inter-Korean relations get put off, North Korean resources will all head overseas."
According to the North Koreans, production at the mines is up nonetheless!
Read the full story here:
Inter-Korean coal mine projects suspended during Lee administration
Hankyoreh
Ki Kyung-rok
4/25/2011