NASA released this satellite image (dated April 13, 2011) of the DPRK that shows a number of forest fires: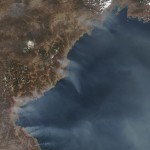 Click thumbnail for larger image
According to NASA:
The Moderate Resolution Imaging Spectroradiometer (MODIS) on NASA's Aqua satellite detected several fires in North Korea on April 13, 2011. The fires are marked in red in the image. The fires stop at the country's borders with China and South Korea, a sign that they were probably deliberately set. Fire is frequently used throughout the world to clear land for agriculture and other purposes, but rules governing the use of fire vary from country to country.

Clustered along the east coast, many of the fires are producing thick smoke, blanketing the Sea of Japan with haze. Though some of the smoke may be coming from far eastern Russia, the densest plumes extend east from the Korean peninsula.
The fires appear to be taking place straight down the east coast.
This is the second time NASA has documented the spread of forest fires for agricultural purposes in the DPRK.  Here is a previous post on the same topic from October 2009 (with picture).