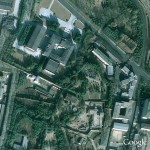 Pictured above on Google Earth: Kim Jong-il's Central District office and nearby Residence 15 (Under renovation)
According to Yonhap:
North Korea has deployed tanks and other weapons around its leader Kim Jong-il's residences in Pyongyang to fortify them against a possible revolt spurred by the ongoing anti-government protests in the Middle East, a Seoul source said Sunday.

During a closed-door meeting with lawmakers on Friday, a senior official of the National Intelligence Service (NIS) confirmed reports of such activity, according to the lawmaker who sits on the parliamentary intelligence committee.

"In response to a question asking for confirmation of reports that ever since the collapse of the Mubarak regime (in Egypt), Kim Jong-il has placed tanks and many other weapons around his residences for fear of a similar situation, (the intelligence official) said that that is how he knows it," the lawmaker said.

The 69-year-old North Korean leader is known to own four residences in Pyongyang alone.

Asked whether the pro-democracy rebellions in the Middle East are having any effect on North Korea, the NIS official said they have had "practically none," according to the lawmaker.

The NIS official, however, did say that the Pyongyang regime was tightening its grip on North Korean embassy staff returning from abroad for fear that they would spread news of the Middle Eastern crisis to others around them, the lawmaker said.
Read the full story here:
Tanks deployed to fortify N. Korean leader's residences: source
Yonhap
3/6/2011