Writing at his new blog, Marcus Noland argues that KOTRA overstates the percentage of the DPRK's trade coming from China.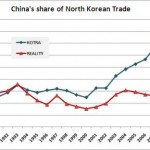 According to Noland, there are several problems with KOTRA data that makes it less than ideal for drawing policy conclusions.  KOTRA counts DPRK-ROK trade as a domestic exchange, not international trade.  Once corrections are made for South Korean trade and a few other tweaks, China's share of North Korean trade falls from appx 80% to 30%.
In a different but related story, Yonhap reports on research findings by Drew Thompson, director of China Studies at the Nixon Center.  According to the report:
China's investment in North Korea was less than US$100 million between 2003 and 2009, indicating Beijing's investment projects in the reclusive country are still relatively small, a U.S. scholar said Thursday.

Drew Thompson, director of China Studies at the Washington-based Nixon Center, said Chinese investment in North Korea totaled $98.3 million over the seven-year period, compared to $1.2 billion in South Korea during the same period.

It was also less than China's investments in other neighboring states, including $273 million in Thailand, $473 million in Vietnam, $729.8 million in Myanmar and $890.7 million in Mongolia over the same period.

The majority of Chinese investors in North Korea are small and medium enterprises, though some smaller firms enjoy brand recognition, such as Nanjing Panda Electronics Co., China Minmetals Corp. and Wanxiang Group, the scholar said.

The majority of Chinese investors in North Korea are not state-owned enterprises (SOEs) controlled by the Chinese central government, but privately owned companies and provincial-, prefecture- and municipal-owned SOEs.

Of the 138 Chinese-North Korean joint ventures established between 1997 and August 2010, 41 percent engage in mining, 38 percent in light industry, 13 percent in services and 8 percent in heavy industry, he said.

Thompson said Chinese investors in North Korea are geographically concentrated in the two northeastern provinces bordering North Korea.

Twenty-eight percent of Chinese companies involved in joint ventures are from Jilin, with 34 percent from Liaoning. The rest are from other regions, including Beijing, Shandong and Shanghai.

Jilin and Liaoning share a 1,400 kilometer border with North Korea and are increasingly focused on foreign trade and on achieving competitive economic advantages through their proximity to North Korea.

"(North Korea's) joint ventures with China are an important aspect of the bilateral relationship, because in addition to propping up the regime in Pyongyang, they contribute to economic development in China's northeastern 'rust belt,'" the scholar said in an emailed note.

China's northeastern region is seen as the country's rust belt, covered with obsolete and unprofitable factories.