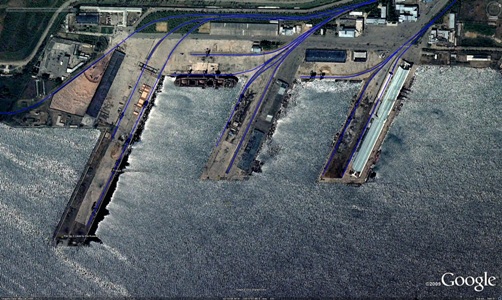 Click image to see the Chinese, Russian, and North Korean piers
UPDATE 5: No more intra-Chinese coal shipments  through Rason have been reported following this 2011 experiment.
UPDATE 4 (2011-6-4): KCNA reports some additional details on the coal being shipped from Hunchun to Shanghai via Rason. According to the article:
It was against this backdrop that China was in the process of transporting 20,000 tons of coal to Rason Port via Hunchun from May 14 and then transporting it to Shanghai by a cargo ship.

Yanbian Ribao, conveying this news on May 18, reported that the Shanghai branches of the Hunchun Mining Group and the Chungjiang Group would transport 500,000 tons of coal to Shanghai by this method this year. This would be tantamount to more than 14,000 truck loads. An official concerned of the Mining Group said that transport of loads to various provinces of Southern China by this method would help sharply cut down the time and transport charges, etc. as compared with the inland transport.
So apparently the 20,000 tonne pilot project what supposed to pave the way for a 500,000 tonne project that never materialized.
UPDATE 3 (2011-1-25): China ships coal from North Korean port for first time. According to Michael Rank:
China has for the first time shipped coal from the North Korean port of Rajin following a deal by a Chinese company to renovate the port, a Chinese website reports.

The 20,000 tonnes of coal, mined in Hunchun, about 80 km north of Rajin, was shipped to Shanghai last month. After going through customs inspection at Hunchun, it was transported by road via the Wonjeongri border post near Dumangang, the report said.

It noted how shipping the coal from Rajin saved the cost of transporting it to the nearest suitable Chinese port of Yingkou or further afield by train and how the deal to renovate and expand Rajin's no 1 dock would help to boost trade from northeast China more generally.

It said the Dalian-based Chuangli Group reached a deal to lease the dock in 2008 and the following year agreed to renovate it and expand its capacity to one million tonnes a year, although news was not announced until last spring.

But when this reporter visited Rajin last September there was no sign of the port being renovated and expanded, and although a couple of small North Korean vessels were moored at the port, there was little sign of any activity and the area was largely deserted.

China does have ambitious hopes for Rajin, however, and last month a Chinese company, Shangdi Guanquan Investment Co, was reported to have signed a letter of intent to invest $2 billion in an industrial zone in the region.

The Wall Street Journal quoted an assistant to the managing director to Shangdi Guangqun as saying the plan was to develop infrastructure, including docks, a power plant and roads over the next two to three years, followed by various industrial projects, including an oil refinery, over the next five to 10 years. He said the company was waiting for a response from the Pyongyang government before applying for approval from China's Ministry of Commerce.

"It's all pending at this stage, and it's really up to the Korean side to make the decision," the assistant, named only as Han, said, according to the WSJ. He added that the $2 billion figure was what the North Korean side had hoped for, not necessarily what his company could deliver.

North Korea has implausible dreams of turning the city into an international freight brokerage, export processing and finance hub, and has even made a computerised promotional video about its plans to build glitzy skyscrapers along the seafront.
UPDATE 2 (2011-1-14): According to Every China:
As the first cross-border cargo ship for domestic trade in China, 10,000 tonner "Jinbo", loaded with 21,000 tons of coal, arrived safely at Shanghai and docked steadily at the pier of Waigaoqiao Terminal at 4 p.m. on January 14. This marked the success of the maiden sail for cross-border domestic trade in our nation.

It is introduced that this 10,000 tonner Jinbo is a freight ship serving for Hunchun Chuangli Shipping Logistics Co., Ltd. of Jilin Province. There was totally 20,000 tons of coal in this cross-border transport produced by Hunchun Mining Group, departing from Hunchun Quanhe Port on December 7, 2010 to Rajin Port of North Korea and cargo concentration in port was accomplished there after one month. Special purpose vessel Jinbo ship docked at No.1 pier of Rajin Port of North Korea at 15 o clock on January 6 this year. The shipment began on 7th and the ship departed from Rajin Port at local time 10:30 on January 11 and arrived safely at the pier of Waigaoqiao Terminal, Shanghai after over 3 days voyage. Currently, related procedures for customs and inspections are in process.

Successive notices on pilot cross-border domestic trade transport in Jilin Province have been issued by General Administration of Customs, Ministry of Transport and General Administration of Quality Supervision, Inspection and Quarantine of the People s Republic of China since last year. Now, the successful arrival of the first cargo ship at the destination is an important achievement gained by Hunchun City or even Yanbian Autonomous Prefecture from implementing the forerunning policy of The Planning Outline of Cooperation in the Exploitation of Tumen River Zone, China. It is also a significant breakthrough in new international land-sea joint transport passage of Hunchun City or even Jilin Province, marking a crucial progress in the Launching out to sea through borrowed port strategy of Jilin Province.

Not only the coal resource of Hunchun City, but also that of Heilongjiang Province, closely adjacent to Yanbian area, can be transported to South China after Rajin Port exit is available. Because of the relatively low transport cost compared with that of other ports at home, this sea passage may become the Golden Passage for transporting coal from the north to the south until then.
UPDATE 1 (2011-2-22): According to the China Daily:
A city in Northeast China is aiming to import coal from the Democratic People's Republic of Korea (DPRK) as part of its effort to establish an international coal production base in the border area.

Hunchun, a city wedged between the DPRK and Russia, has coal reserves of 1.2 billion tons, and supplies the fuel to Jilin, Liaoning, Jiangsu and Shangdong provinces. It currently produces about 6 million tons of coal annually.

"We plan to raise our production to more than 10 million tons a year by importing and exploiting coal both from the DPRK and Russia," said a senior Hunchun city official, who declined to be named.

In January, coal was shipped for the first time from Hunchun to Shanghai via the DPRK port of Rajin, following a deal made by a Chinese company to renovate that port.

The 20,000 tons of coal mined in Hunchun reached Shanghai in three days in the transportation trial. Normally, it takes more than 10 days to transport that amount of coal by train from Hunchun to Shanghai.

"We will try to deliver coal by this new shipping route in the future, because it saved a lot of money in transportation costs," the government officer said.

The city government also intends to transmit the electricity power generated by its coal-fired power plant to the DPRK.

China has been striving to establish an international sea route through the two countries to boost bilateral trade.

Dalian-based Chuangli Group invested 30 million yuan ($4.6 million) in improvements to Rajin last year, according to officials.

The Dalian group expanded the port's annual shipping capacity to 1 million tons last year, after reaching a deal to lease and reconstruct it in 2009.

Hunchun officials said the city's foreign trade volume has quadrupled in the past three years, thanks to improved international shipping.

By taking advantage of cross-border energy production and transportation, Huchun expects its coal production to rise by 22 percent during the 12th Five-Year Plan (2011-2015).

The Seoul-based Yonhap News Agency reported earlier that the DPRK plans to cooperate with Chinese enterprises on exploiting mineral resources in Hamgyeongbuk-do in the DPRK, which has about 200 million tons in coal reserves.
ORIGINAL POST (2011-1-4): Rason is being used to transport coal from Hunchun to Shanghai. According to the Choson Ilbo:
In official confirmation that closer China-North Korea business ties have come to fruition, the state-run Xinhua news agency and local media in Jilin on Monday said China has transported 20,000 tons of coal from a mine in Jilin to Shanghai and Ningbo through North Korea's Rajin-Sonbong Port since Dec. 7.

The coal produced in Hunchun was carried by some 570 35-ton trucks across the Duman (or Tumen) River and transported to the port along a 60 km unpaved road between Hunchun and Rajin-Sonbong.

A source in Hunchun said, "Since a month ago, dozens of trucks a day have been going to the North" through Quanhe Customs Office.

The abundant coal deposits in the northeastern China are mainly used for heating homes in southern China in winter, but with no access to the East Sea, China had to transport it overland to Yingkou Port in the Bohai Bay, some 800 km to the west, incurring logistical costs.

China has long tried to get the right to use Rajin-Sonbong and Chongjin ports in North Hamgyong Province in North Korea in a bid to secure an East Sea route.

In 2009, Chuangli Group, an environmental facilities manufacturer in Dalian, obtained the right to use a pier in the Rajin-Songbong port for 10 years in collaboration with a North Korean trading company. Another Chinese firm in Tumen is also reportedly seeking the right to use Chongjin Port.

Prof. Yoon Seung-hyun of Yanbian University said Chongjin Port, has better facilities than Rajin-Sonbong. "The North is more open and aggressive" because it is groaning under international sanctions and aid from South Korea has dried up, he added.
Recent posts on Rajin (Rason) can be found here.
Read the full story here:
Chinese Shipping Through N.Korean Port in Full Swing
Choson Ilbo
2011-1-4