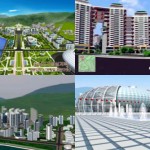 According to the Choson Ilbo:
North Korea is pushing the implausible dream of turning the city of Rajin-Sonbong in North Hamgyong Province into an international freight brokerage, export processing and finance hub. A 3D video elaborating on a blueprint for the development of the city was made right after leader Kim Jong-il visited China in May.

The video, obtained by the Chosun Ilbo from a North Korean source in China, says the North worked out a plan in June to develop the city by giving distinctive roles to each of its six districts. "The video was made as material for reporting to Kim Jong-il," the source said. "Discussion on the blueprint started right after Kim's visit to the city in December last year and it was then hastily completed when people were talking about possible Chinese aid to the North after Kim's visit to China in May."

In December, Kim reportedly reprimanded senior officials there for making no progress in two decades since it was designated a development zone.

The regime upgraded Rajin-Sonbong to a special city in January. Rumor has it that Kim's brother-in-law Jang Song-taek, the influential director of the Workers Party's Administration Department, is pushing for development there.

The narrator in the video says, "In the future, Rajin-Sonbong will turn into a world-class economic and trade zone based on international freight brokerage, export processing and finance business and into a beautiful cultural port city in the era of the Songun (military-first) ideology."

The narrator quotes regime founder Kim Il-sung as saying, "Rajin-Sonbong must become a better city than Singapore when you establish an economic and trade zone there." Kim Jong-il is quoted as saying, "To build Rajin-Sonbong well, we must carry out the construction project according to an urban development plan."

The video says the regime made a detailed plan to develop the city. A Kim Il-sung statue and public buildings such as an exhibition hall will be built in the Jungsim District. Changpyong District, which lies close to Rajin-Sonbong Port, will become a residential area. Anju District will become a finance center with hotels, banks and a department store will be built. High-risers including a 40-story office building will be built in Sosan and Dongmyong, and light industry will be built on both sides of Rajin Railway Station in Yokjon District.

Six design research centers in Pyongyang and Rajin-Sonbong were tasked with producing the blueprints.

But experts say chances that the project will come to fruition are near zero. "If Rajin-Sonbong is to be developed according to the blueprint in the video, the North would have to reform and open up. It can't become an international trade and finance center without huge investment from South Korea, the U.S. and Japan," a South Korean government official said.

So far, only a road linking the Chinese city of Hunchun with Rajin-Sonbong Port is being built in accordance with Chinese plans to ship goods from there.

Cho Bong-hyun, a researcher at the Industrial Bank of Korea's economic research center, said an estimated 5 million tons a year of grain, coal and timber from northeastern China are being transported to southern China, and China can save up to US$10 per ton or $50 million a year in transport costs if it uses Rajin-Sonbong Port instead of railways.

The port could also be of help to China for exports. There are also rumors of a joint industrial complex in the area where North Korea would provide the labor for Chinese firms.

But a Chinese businessman operating in the North said the North and China have different ideas about the development plan, so nobody knows if and when development will get under way.
The video can be seen at the Choson Ilbo web page below.
Read the full story here:
N.Korea Pursues Dream of Int'l Business Hub
Choson Ilbo
11/5/2010